About Print in the Mix
Print in the Mix is a clearinghouse of research demonstrating the effectiveness of print, web, mobile, social media and other formats in the cross-media communications value chain. Our mission is to advocate and educate for the value of print as a viable and effective ROI in the marketing strategy media mix -- alone and working synergistically with other media to drive results.

Print in the Mix was created in 2007 with a grant from The Print Council and is housed at Rochester Institute of Technology and published by the School of Media Sciences. The Print Council ceased operations in fall 2012 and sponsorship of the Clearinghouse was transferred to RIT School of Media Sciences' Cross-Media Innovation Center (CMIC).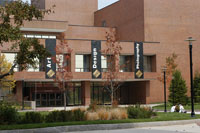 Print in the Mix brings together valuable, verifiable, and factual data and research from a wide-range of credible industry and academic sources.

We review research from a variety of academic and industry information sources and distill the quantitative facts and detail how the research was done to present top-line synopses for use by media specifiers, print providers, and others as they make the case for "print in the mix."

Questions? Please feel free to contact Managing Editor, Liz Dopp at (585) 475-7436 or liz.dopp@rit.edu.