Consumer Survey: "We Prefer Direct Mail"
Direct Mail
December 1, 2011 -- According to marketing firm Epsilon Targeting's latest Consumer Channel Preference Study of nearly 5,000 North American consumers, 50% of U.S. consumers prefer direct mail to email, and the same can be said for nearly as many Canadians.
The study, entitled
"The Formula For Success: Preference and Trust,"
finds that direct mail continues to deliver as consumers' preferred means of receiving marketing messages from brands, with six out of 10 Americans and even more Canadians say they "enjoy getting postal mail from brands about new products."
The 2011 research shows that "despite direct mail's reputation for being "old school" or expensive, it is the top choice of U.S. and Canadian consumers for the receipt of brand communications in almost every category, ranging from "health to household products, to household services, insurance and financial services, including credit card offers," Also of note, "the preference for direct mail also extends to the 18-34 year old demographic."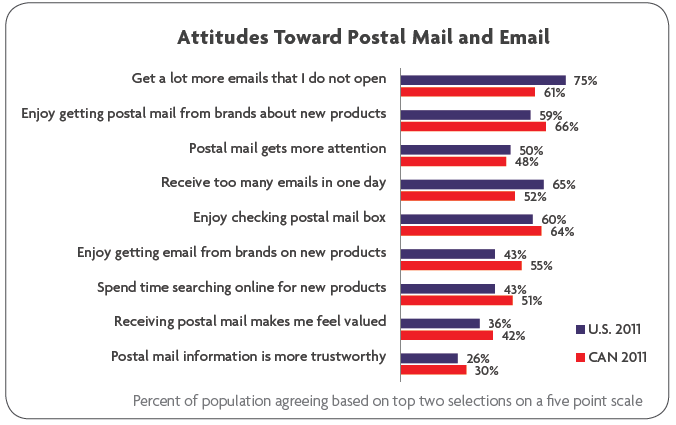 Source: Epsilon, The Formula For Success: Preference and Trust, 2011.
Additional Key Findings:
Compared to Epsilon 2010 survey of consumer channel preferences, 10% of U.S. respondents say they used Facebook to research and review product information, a 66% growth from six percent in 2010.
With this said, approximately a third of U.S. and Canadian survey respondents (33% U.S. and 31% Canadian) don't find ads on social media sites useful.
Across all key verticals – from financial and insurance to retail and personal care - direct mail is preferred to email by all respondents.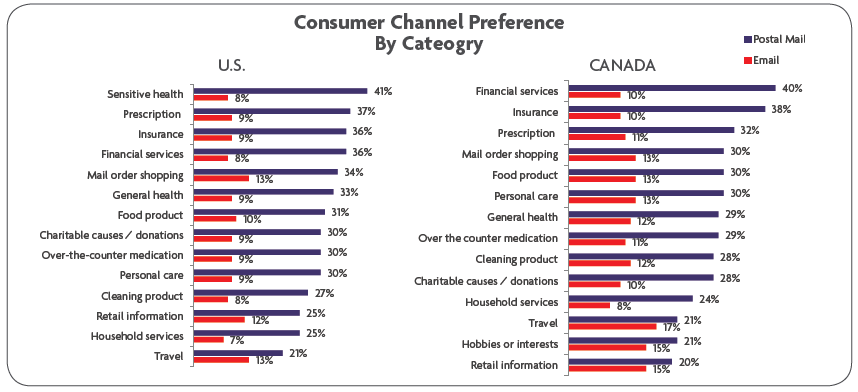 Source: Epsilon, The Formula For Success: Preference and Trust, 2011.

Nearly 4 out of 10 (37%) U.S. consumers and 29% of Canadians use TV daily to get consumer product information, down from 43% and 35% respectively in 2010
The least trustworthy channels are social media and blogs, achieving only 6% trust among U.S. consumers and 5% among Canadians
Consumers say they greatly prefer personally addressed mail is preferred to unaddressed mail
One-third (34%) of U.S. consumers who prefer email over mail cited "saving on paper" as the main reason, up from 21% in 2010; Of those who prefer postal mail to email, 30% say they would prefer not to have to print the information needed
In the U.S., 75% of consumers say they get more email than they can read; 61% of Canadians express the same sentiment.
The study suggests that brands should use a variety of channels to build relationships, starting with trusted channels like direct mail, then "layering the message to re-enforce it through other channels."
A
s reported by DMNews
, Warren Storey, VP of product marketing and insight at ICOM, a division of Epsilon Targeting, said the findings are not all that unexpected when "you know the data and consumer trends." He is quoted as saying:
"It's just 'surprising' because everything you hear in the media is basically counter to what the consumers are actually telling us, which is that direct mail is still the preferred channel," and "direct mail is one of those mediums that is always quietly there in the background doing a great job."
"The key learning from this study is that marketers should recognize consumer preferences and establish a trustworthy relationship across a variety of channels," said Storey. "Consumers appreciate brands that pay attention to their interests and stated preferences."
About:
The study is based on completed surveys from 2,226 U.S. consumers and 2,574 Canadian consumers. Epsilon Targeting has completed three surveys on the topic of consumer channel preference to generate trending data. The August 2011 research was preceded by an initial study in February 2008 as well as a survey in February 2010.

Sources: Epsilon Targeting, Consumer Survey Results Reveal Direct Mail Is Most Preferred Channel for Receipt of Brand Communications, December 1, 2011 and DMNews, Study: Fifty percent of consumers prefer direct mail to email, December 1, 2011.