Nearly 1 in 5 Smartphone Users Made a Purchase After Scanning a QR Code
Mobile
January 4, 2011 -- A study of over 1,200 U.S. consumers conducted by custom research firm, Chadwick Martin Bailey (CMB) and market research firm iModerate Research Technologies, looked at how people are using Quick Response, or QR codes, and what they're looking for when they scan. The
Consumer Pulse study
also looks at what will motivate consumers to make it part of their purchase process.

The study found:

While only 21% know QR codes by name, 81% of respondents reported having seen the ubiquitous black and white squares.
For smartphone owners, whose devices are capable of scanning the code, QR codes are becoming a part of the purchase process. Half of smartphone owners surveyed had scanned a QR code, and nearly 20% of them made a purchase after scanning.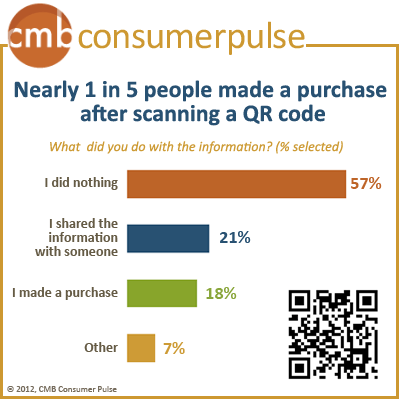 The study also looked at ease of use, with 70% of those who scanned finding scanning to be a very easy process.
Results were more mixed when respondents were asked to rate the usefulness of the information they got from scanning the code: 41% reported the information they got to be useful. 42% reported mixed results and 18% said the scan proved not useful.
Magazines and newspapers were the top source for scanned QR codes (35%), followed by packages (18%), websites (13%), direct mailings (11%), billboards or signs (11%), emails (4%), and other (7%).
Among those who scanned codes, the top reasons were curiosity (46%), to get more information about a company, service, product, deal or event (41%), to take advantage of a promotional offer (18%) or to gain access to exclusive content (16%).
The top reason to scan a QR code noted by all respondents (those who have scanned and those who haven't) is interest in getting a discount, coupon, or free item (46%).
"Consumers are curious about QR codes and the information they can get," notes Jeff McKenna, Senior Consultant at Chadwick Martin Bailey. "But companies need to understand what consumers expect from a scan whether it's more information, a coupon, or exclusive offer. Companies who use QR codes successfully to drive engagement or sales will be those who meet customer expectations and offer compelling reasons to scan."
To fully contextualize this research, iModerate conducted one-on-one conversations with 22 Americans over age 18. In the words of respondents:

"[I] received [a QR code] at the hotel front desk and used it to download their mobile app. Then I had full access to reservations, rewards, etc. [It gave me] easy access to reservations while mobile … simple, clean, no long issues, delays or any other frustrations."— Past User, female, 55 to 59
"I think it would be good if QR codes could be used for special events for stores when they are having a sale and only the people who use QR codes would know about it."— Never Used, female, 25 to 29
"I tend to see them for things I really do not care about. I have a smartphone but have never downloaded the app. I also do not have any friends or know anyone who has. It doesn't sound like something fun for me."— Never Used, male, 30 to 34
About: This study was done as part of Chadwick Martin Bailey's self-funded CMB Consumer Pulse program. Data was collected from 1,228 U.S. adults (aged 18 and over) via a nationally representative online survey questionnaire by Chadwick Martin Bailey in October of 2011. In addition, iModerate Research Technologies conducted one-on-one online conversations to more fully contextualize their holiday shopping plans.
Source:
PRWeb,
New Study Reports Nearly 1 in 5 People Made a Purchase After Scanning a QR Code
, January 4, 2011.