Moms Lead Way In Use of QR Codes to Find Deals
Mobile
A November 2011 joint study between parenting social media site BabyCenter and comScore, examining the shopping behaviors of 8,000 U.S. mothers, "shows moms make purchase decisions across all categories and outspend the general population both online and offline." Examining mothers efforts to find deals, data from the "2011 Shopping Rituals of the American Mom" report shows:

Moms use a variety of tools and resources to get their shopping done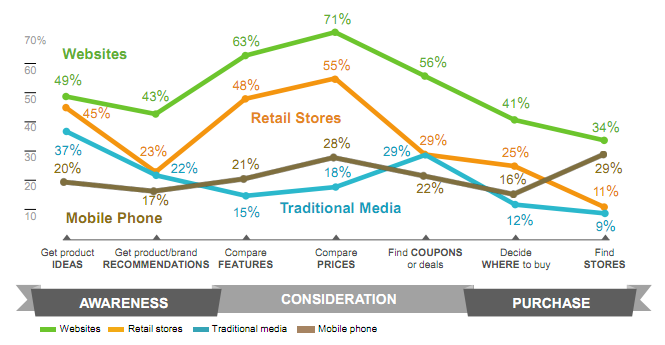 Source: BabyCenter, "2011 Shopping Rituals of the American Mom" Report


Moms are more likely than the general population to search for discounts online (55% vs. 30%)
62% of moms surveyed have a barcode scanner app on their mobile device to help them find deals (29% more than the general population)
40% of moms have shopped via a smartphone app (60% higher than the general population)
74% have or would scan a QR code at a grocery store to save money
Moms are willing to use QR codes to save money on even low ticket items: 71% would scan a barcode to save under $5, compared to only 49% of the general population.

Among the key take aways: "Motherhood triggers change --from how she spends her time and how she consumes media to how she shops. Moms are empowered and charting new paths to the register."
About: The findings in BabyCenter's 2011 Shopping Rituals of the American Mom report are the result of in-depth surveys conducted among over 8,000 online moms visiting the BabyCenter US site in Summer 2011. BabyCenter partnered with comScore on survey research as well as online purchasing behavioral data that highlights the differences in the way moms shop compared with other online adults. A general population survey was conducted with 1,000 Internet representative adults from the comScore panel. In addition, comScore conducted a behavioral analysis by analyzing online purchases across categories among their one million opt-in panelists.

Source: Marketing Charts, Moms Make Savvy Deal Shoppers, November 9, 2011.