Consumers: Traditional Ad Channels More Engaging
Multichannel
February 2012 -- According to a 2012
BrandSpark International/Better Homes and Gardens study
, traditional advertising channels outperform digital channels in engaging American consumers.
Ads in Traditional Channels Noticed More

Data from the "2012 American Shopper Study" shows Americans engaged in a variety of traditional media are more likely to take note of ads than those engaged in digital media channels.
For example, among users of traditional media, 97% say they always or sometimes notice TV ads, with magazine ads (86%), direct mail (82%), outdoor ads (80%), radio (79%), and paid daily newspapers (74%) following behind.
Examining digital media, only 71% of search engine users say they always or sometimes notice ads on that channel, while 66% say they notice ads placed on social media. One-third of respondents shared that they never noticed social media ads; Search engine user responses were similar.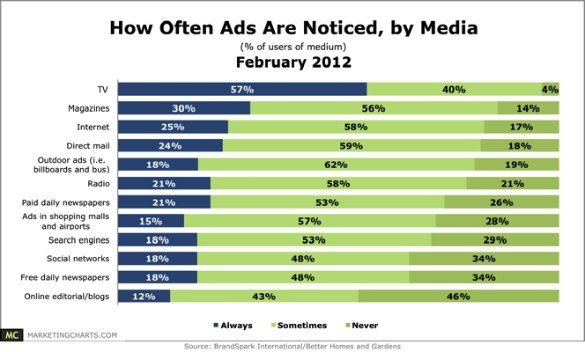 Chart source: Marketing Charts
Women More Apt to Notice Traditional Ads
The study also finds that women are more likely than men to notice ads among the various kinds of media -- most often in traditional media. Marketing Charts reports the largest discrepancy is in magazines, with 88% of women who read magazines saying they often notice advertising in the medium (giving it a top 2 box score), compared to 80% of men. There is also a difference for direct mail (84% of female users vs. 78% of male users). The disparity is narrower for outdoor ads (81% vs. 79%), paid daily newspapers (75% vs. 73%), and online editorial/blogs (55% vs. 52%).

Young Adults Pay More Attention to Digital Ads

Not surprisingly, online users aged 18-24 were far more likely than those aged 65 and older to notice Internet ads (91% vs. 69%), search engine ads (76% vs. 52%), social networks ads (80% vs. 41%), and online editorial/blog ads (70% vs. 32%).
About: BrandSpark International, in collaboration with SSI, conducted an online survey of over 60,000 American consumers (age 18+). The survey, fielded between November and December 31, 2011, was weighted by gender, age and region to conform to US MRI data and reflect the principal shopper.
Source:
Marketing Charts,
TV and Magazine Ads Get Most Attention
, February 9, 2012.