Many Consumers Just Prefer Reading the Printed Versions of Magazines
Magazines
December 2011 -- According to the Fall 2011 wave of Affinity's American Magazine Study -- which surveys 60,000 U.S. consumers and reports the total audience delivery of magazine brands across print, web, mobile and social platforms -- there are almost 187 million magazine reading adults in the U.S.
The study finds that while 54% are now accessing magazine branded content and advertising in digital form – either through digital platforms only, or a combination of print and digital readership – almost half of all magazine readers (46%) are interacting with their favorite magazines exclusively in print.
When asked why they are not currently reading magazine content digitally, analysis finds few consumers cite any challenges associated with the growing number of mobile devices designed to deliver magazines electronically. Instead, the majority (54%) report that they just prefer reading printed copies of magazines, with 44% expressing little or no interest in reading their magazines in a digital format.

With that said, almost one out of five print-only readers share that they will probably read or view magazine content in electronic form at some point in the future.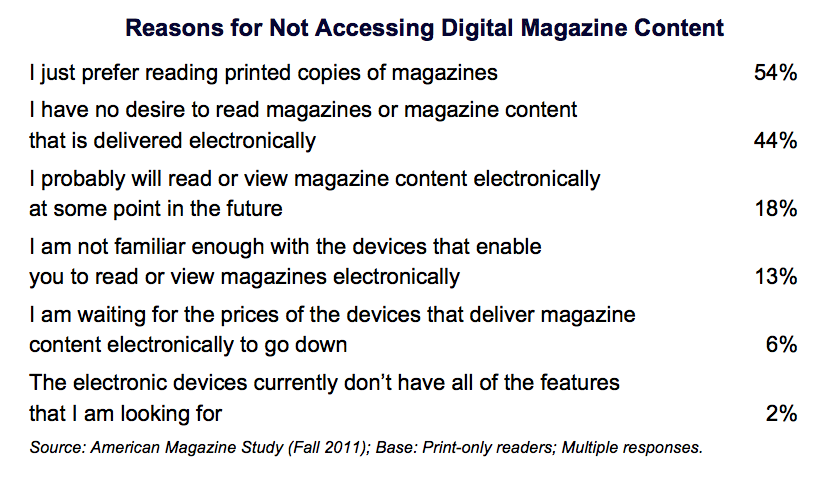 About:
Affinity's American Magazine Study employs an online methodology to survey more than 60,000 consumers annually. AMS studies total magazine brand readership across print and digital channels, including magazine websites, social networks, electronic subscriptions and smartphones, eReaders, tablet PCs, and other mobile devices. Using a calibration process, web audience estimates provided by comScore, Inc. have been integrated into the study.
Sources: Affinity's American Magazine Study email press release, The Digital Magazine Divide, and the Fall 2011 AMS Audience Estimates news release.