Americans Spend 11 Hours Per Day With Major Media
Trends/Issues
March 23, 2012 -- Data analysis conducted by
eMarketer
estimates U.S. adults "crammed
more than 11 hours of media content into an average day
in 2011."
American adults spend approximately 4.5 hrs with television and video, followed by nearly 3 hours online, 1.5 hours listening to the radio, an hour on their mobile devices, nearly a half hour reading the newspapers, followed by 18 minutes with magazines.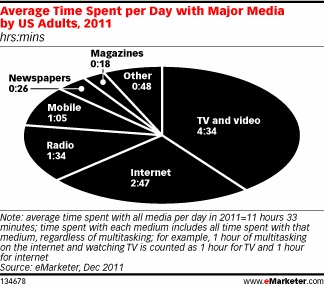 Source: eMarketer


"For marketers, the age of multitasking means consumers are available to receive multiple streams of messages at the same time," said Mark Dolliver, eMarketer analyst. "But multitasking also yields an audience whose attention is divided."


Source: eMarketer, Media Multitasking Brings Challenges and Opportunities for Marketers, March 23, 2012.