Hard Economic Times: Funny Ads Most Effective
Consumer Attitudes
June 2012 -- Consumer research firm Nielsen conducted an in-depth custom research study of advertising effectiveness of more than 4,000 advertisements before, during and after the recession of 2006-2011 to find out "how do advertisers reach and resonate with an increasingly diverse, demanding and connected audience" during hard economic times?
Examining consumer packaged good (CPG) ads, they categorized the ads by creative approach: humor, narrative, sentimental, product, promotional and value. The study then evaluated the "effectiveness" of each creative approach through different phases – pre (2006-2007) during (2008-2009) and post (2010-2011) – of the most recent recession cycle.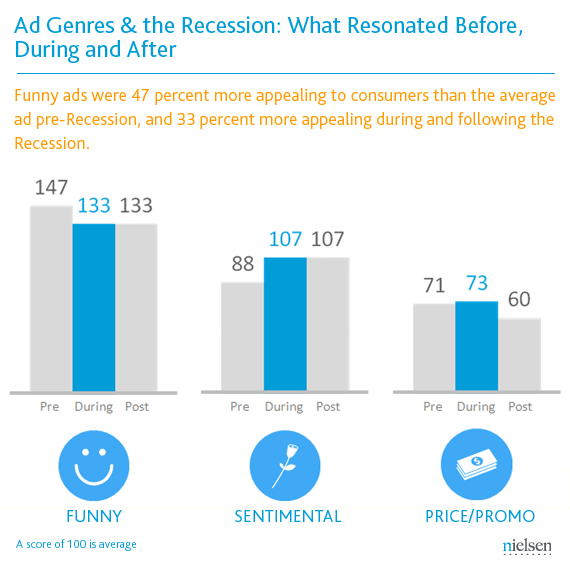 Source: Nielsen, 2012
The findings:
Funny ads have consistently connected best with viewers, regardless of the economy.
Sentimental and value-oriented ads saw a lift in effectiveness during and after the recession.
Ads focused on product features and promotion/price failed to resonate with viewers, regardless of the economic times.


Source: Nielsen, Economy-Proof Ads: Funny Beats Frugal in Advertising, June 21, 2012.