Back-to-College Shoppers Turning to Catalogs
Catalogs
July 19, 2012 – According to National Retail Federation's
2012 Back-to-School spending survey
conducted by BIGinsight, the average person with children in grades K-12 will spend $688.62 on their children, up from $603.63 last year. Total spending is expected to reach $30.3 billion (Note: total spending is an extrapolation of U.S. adults 18+).
The NRF survey found 15.1% of shoppers said they plan to use catalogs to buy their college items, up from 11.4% last year and 8.3% the year prior.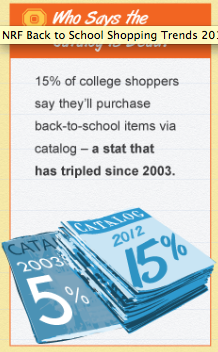 Source: NRF Back to School and College Surveys, 2012

The Internet has helped the resurgence of both digital and paper catalogs among shoppers of all ages. Nearly one-quarter (24.9%) of the average 25-34 year old will use catalogs to purchase school items.
About:
NRF's 2012 Back-to-School and Back-to-College spending surveys were designed to gauge consumer behavior and shopping trends related to back-to-school spending and back-to-college spending. The surveys were conducted for NRF by BIGinsight. The poll of 8,509 consumers was conducted from July 2- 9, 2012. The consumer polls have a margin of error of +/-1.0%.

Source: NRF news release, Back-To-School Spending Grows As Parents Restock, Replenish Children's Needs, July 19, 2012.