Parents Seeking Offers, Coupons Turn to Print and Digital
Inserts/Coupons

August 2012 -- A new Harris poll finds parents are more likely than consumers without children to have stepped up money saving activities and turn to both print and online sources for savings.

When it comes to clipping coupons or going online for promo codes to redeem for savings -- 33% of parents said they are looking more for deals and discounts when shopping this year, compared to 26% of respondents without children.

In addition, consumers are increasingly seeking out promotional deals – especially parents --- through a variety of digital and print channels, with traditional channels showing a slight lead.

The poll, conducted by Harris Interactive on behalf of location-based marketer Placecast, finds parents relying on print and online to save money. Clipping coupons from newspaper inserts (31%) and relying on coupons arriving at the home (31%) are top sources for parents, followed by merchant email offers (30%), online coupons sites (29%) and opt-in email offers from retailers (23%). Signing up to receive promo text alerts from retailers (14%) lags behind overall, with the channel being most popular among parents with younger children.

The top three sources of deals for consumers without children: offers received at home (23%), coupns from newspaper inserts (21%) and email offers from retailers (19%).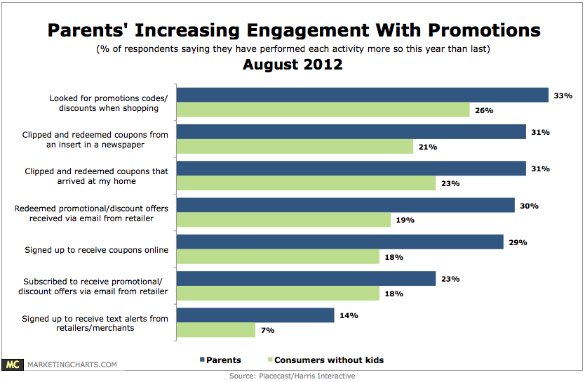 Chart graphic: Marketing Charts

About: Data based on The Alert Shopper III, a Harris Interactive Poll conducted on behalf of Placecast, February 2012 among 2,262 adults ages 18+.

Sources: Marketing Charts, Parents More Actively Seeking Coupons, Offers, August 20, 2012 and Placecast, When it Comes to Mobile Shopping, "Parents Know Best," accessed Sept. 27, 2012.