Survey: Marketers Take A Look At Their Social Marketing Efforts
Social Media
September 26, 2012 -- Online marketing resource Chief Marketer surveyed 1,050 B2B and B2C marketing professionals, representing a range of industries, to find the pulse on their view of their social media marketing efforts. Key findings:

Three-quarters (76%) of respondents overall said their brands are engaged in social media marketing. A further 16% plan to begin to do so by the end of this year. By contrast, only 6% of those polled said they were not doing anything to market within social and did not plan to do so this year. Not surprisingly, B2C brands are more heavily invested in social marketing than B2B.
Respondents overall are concentrating the majority of their social marketing efforts in the three largest U.S. social networks: Facebook (89%), Twitter (77%) and LinkedIn (63%).
More than half (56%) of respondents cite the difficulty of calculating an accurate return on their social marketing investments as a prime frustration with the channels. The second most often expressed complaint (55%) is the difficulty of accurately tracking sales to social campaigns. Those response rates held true for both B2C and B2B marketers.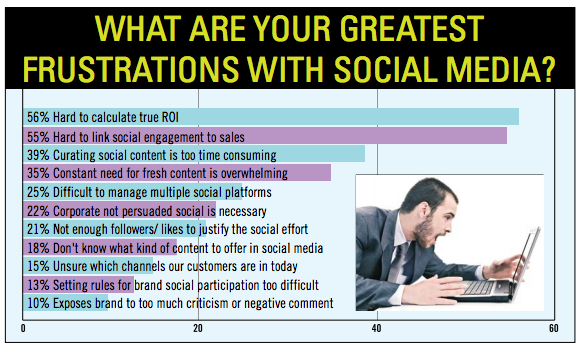 Source: The Chief Marketer 2012 Social Marketing Survey
The top strategies behind social media efforts are maximizing campaigns and messages via multiple touchpoints (84%) and maintaining a presence where their customers are spending increasing amounts of time (62%). Respondents also reason that customers expect their brands will have a social presence (56%).
The tactical aims for social marketing campaigns: Drive traffic to a web site (56%), generating sales leads (43%), and identifying brand fans (37%).
The most heavily used platform-specific tools:

Facebook Events are used most often by those who market on the top social media site. Nearly two-thirds (64%) say is lets them them advise fans about upcoming events either online or off.

In Twitter, marketers rely mainly on hashtags -- either that associated with specific campaigns (30%) or simply to organize conversations around their tweeted content (26%). More than a quarter of the total response (26%) have also made use of Twitter's Promoted Tweets feature.

In LinkedIn, marketers say they are starting or joining ongoing conversations within discussion groups --44% of B2B marketers say they make sure their brands take part in those groups, compared to 33% of the overall response.
Metrics most commonly used to gauge successful social campaigns:

68% track likes, follows or fans to measure a social marketing campaign.

39% keep count of shares, forwards and retweets of their social content.

34% count how often users come to their social pages.
Less than half of those engaged in social marketing feel they are "very" of "somewhat effective" in measuring the impact of their campaigns:

4% report being "very effective"

38% say they are "somewhat effective"

31% state "not very effective"

16% report "not at all effective"

11% of respondents say they "don't know."
About: The Chief Marketer 2012 Social Marketing Survey was conducted online between August 7 -September 10, 2012, and polled 1,050 active marketers and executives at brands and agencies distributed across a range of industry verticals including manufacturing, retail, financial, healthcare, travel, entertainment, publishing, advertising, database and non-profit sectors.

Source: Chief Marketer, Newly Released Chief Marketer Survey Reveals Social Marketing Trends for 2013, accessed Oct. 9, 2012.