Consumers: Printed Ads Would Be Missed Most
Consumer Attitudes

October 2012 -- The latest Marketing-GAP survey by UK's fast.MAP asked consumers, "Which of the following forms of advertising would you miss most if it disappeared tomorrow?"

Approximately half of consumers said they would miss printed ads for all products and services if they disappeared. In comparison, around a third said they would miss online advertisements and only between one and two in 10 would miss temearketing calls and door-to-door sales.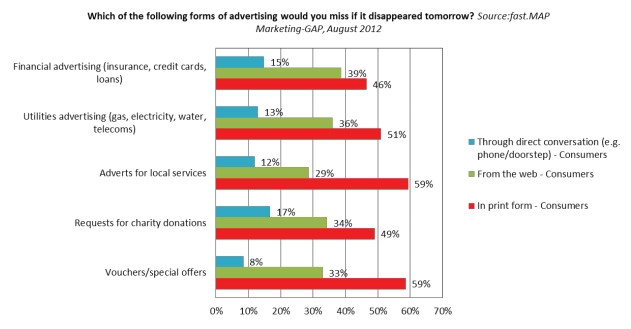 The Gap: Marketers, on the other hand, underestimate the number who will miss print ads across all subjects and, with two exceptions, overestimate those who would miss web and one-to-one marketing.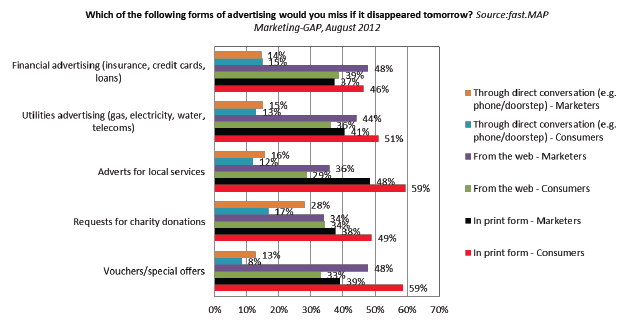 The Marketing-GAP report from fast.MAP compares marketers' perceptions with consumer reality. The marketing insight firm surveyed consumers who are both "mail and internet responsive" to marketing offers.


About: Conducted in August 2012. fast.Map partnered with The Institute of Promotional Marketing and The Institute of Direct and Digital Marketing (IDM). The research was sponsored by the Royal Mail. The consumer panel comprised 1,140 adults recruited from the 30,000 fast.MAP wholly-owned, closed panel whose profile echoes that of the UK's population profile in age and gender. Only people who are both mail and internet responsive were selected for the panel. The marketers panel comprised 353 marketers, drawn from the fast.MAP marketing professionals' panel and the IPM and IDM's membership.

Source: fast.map, 2012 fast.Map Marketing GAP report, accessed October 10, 2012.