Number of Americans Who Read Print Newspapers Continues Decline
Newspapers

October 2012 -- In a new Pew survey of 3,000 Americans, only 29% say they read a newspaper yesterday, with just 23% reading a print newspaper.

Over the past decade, the percentage reading a print newspaper has fallen by 18 points (from 41% to 23%).

Somewhat more (38%) say they regularly read a daily newspaper, although this percentage also has declined, from 54% in 2004.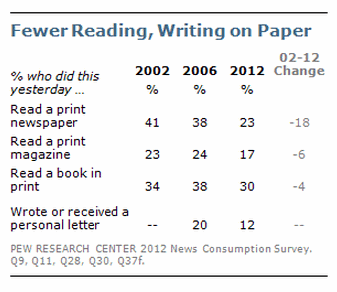 Source: Pew Research Center 2012


Pew notes that figures for newspaper readership may not include some people who read newspaper content on sites that aggregate news content, such as Google News or Yahoo News.
Online newspaper readers make up an ever-greater share of all newspaper readers. Currently, 55% of regular New York Times readers say they read the digital edition, as do 48% of regular USA Today readers and 44% of Wall Street Journal readers.
Additionally, magazine readers are turning to digital acccess also, there have been smaller declines in the percentages of Americans reading a magazine or book in print in the past decade (six points and four points, respectively) than for newspapers.


About: Results for the 2012 media consumption survey are based on telephone interviews conducted May 9-June 3, 2012, among a national sample of 3,003 adults, 18 years of age or older, living in all 50 U.S. states and the District of Columbia (1,801 respondents were interviewed on a landline telephone, and 1,202 were interviewed on a cell phone, including 591 who had no landline telephone). The survey was conducted by Princeton Survey Research Associates International. The margin of error is plus/minus 2.1%.

Source: Pew Research Center for the People & the Press, 23% - Number of Americans Who Read Print Newspapers Continues Decline, accessed October 16, 2012.