Consumers Are Interacting With Digital Magazine Ads
Digital/Online

October 17, 2012—More than half of consumers who read a magazine advertisement on their tablet or e-reader interacted with the ad, according to new research covering more than 30,000 digital ads across 1,000 magazine issues from GfK MRI Starch Digital.

The research shows that 55% of digital magazine readers "noted," or read, a digital ad on their tablet or e-reader. Among those who noted an ad, 52% took an interactive action as a result.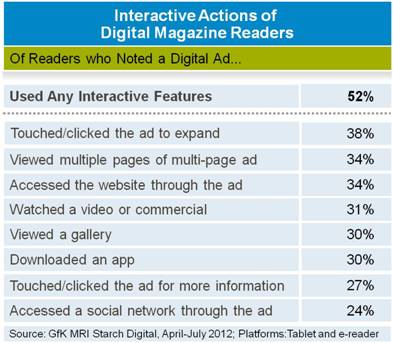 When viewing a multi-page ad, more than one-third of digital ad readers looked beyond the first page of the ad to view two or more pages. In addition, more than one-third accessed a website via the ad.

When an ad featured a video or commercial, 31% of ad readers watched it. Viewing a gallery and downloading an app were actions taken by 30% of ad readers.

Other interactions taken by digital ad readers were touching or clicking the ad for more information (27%) and accessing a social network through the ad (24%).

Consumers say the in-app advertising they are most interest in (by app type):

Shopping/retail (30%)
Local info (28%)
Weather (28%)
Cooking/recipes (28%)
Magazines (25%)
Books (25%)


About: Starch Digital, a syndicated service launched by GfK MRI in February 2012 that measures readership and effectiveness of digital advertising. The study, fielded from April 1 through July 30, 2012, found that 14,230 tablet and e-reader ads contained interactive features.

Source: GfK MRI Starch Digital, New Research Shows How Digital Magazine Ads Prompt Interactivity, October 17, 2012 and Marketing Charts, Tablet Owners Show Some Enthusiasm For In-App Ads, October 23, 2012.