Biz Publishing Sector Cautious About Mobile
Mobile

October 23, 2012 -- A recent study of publishing executives conducted by American Business Media and media market researcher Outsell Inc. finds them taking a cautious approach in developing mobile strategies for their content.

The study, "Anytime, Anywhere: Mobile Benchmarks and Directions for B-to-B," was based on an online survey conducted in August 2012 with 104 C-level business publishing and operational executives at ABM member companies.

The study found:

Repurposing content is the key mobile initiative among publishing execs.


C-level publishers are mostly ad hoc with their mobile strategies:

20% have deployed a formal mobile strategy;

56% are somewhere between a formal strategy and ad hoc efforts;

24% strategize on a project or case-by-case basis.
Publishing executives report that 19% of their total audiences access content via mobile devices, yet only 5% of their digital revenue is generated through mobile.


The majority of respondents (88%) say they expect either a negative or a break-even ROI on their mobile strategy. Only 12% expect a positive ROI at this early point of its evolution.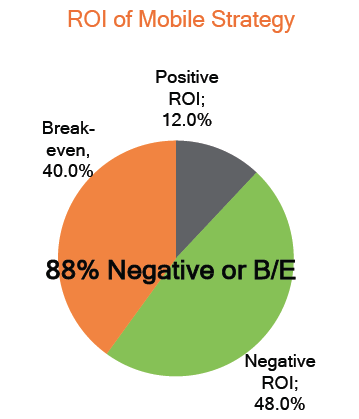 Source: ABM/Outsell Mobile Survey, August 2012


Approximately two-thirds (68%) of execs say the return on investment for their mobile content strategy met their expectations; 32% shared that the ROI was below their expectations.
The top mobile priorities among B2B media companies: enhance the brand as a forward thinker (64%) and deliver B2B information to mobile users (60%). Further down in the list of priorities: New revenue from mobile users (29%) and enhancing mobile e-commerce (24%).
The study found 33% of ABM companies offer a mobile-optimized site, and 28% use a mobile site. Less than one in 10 (7%) offer e-newsletters optimized for mobile devices.

For more results from the study and the slide deck on the ABM/Outsell presentation from the Executive Forum, click here [pdf].


Sources: BtoB Media Business, At ABM Executive Forum: Study finds publishers cautious about mobile, October 23, 2012 and Folio, ABM Adds Nine Companies to Membership Roster, October 23, 2012.