Tipping Point: Local Mobile Advertising Poised to Take Off
Mobile

November 5, 2012 -- Local media forecaster BIA/Kelsey predicts U.S. mobile local advertising revenues to grow from $664 million in 2011 to $5.8 billion in 2016, representing a compound annual growth rate of 54.2%.

Growth Slower Than Expected

While this represents a healthy growth over the next 5 years, the adoption rate of mobile ads by advertisers is happening at a slower rate than previously expected.

"The overall learning curve of what's possible with mobile and the native capabilities of these devices is seeing a slower uptick than expected. In later years, we expect adoption to be greater than we previously forecast," Michael Boland, program director of the mobile local media practice, is quoted as saying.

Mobile Advertising Trails Amount Of Time Consumers Spend On Mobile

As reported by online news resource Mobile Marketer, "Currently, mobile advertising trails the amount of time consumers spend on mobile, with industry estimates giving mobile a 10 percent share of consumers' time spent on media while advertisers are only allocating around one percent of their budgets to mobile."

Local Mobile expected to grow to a 3.1% ad share in 2016

BIA/Kelsey's projected mobile local ad revenues represent a subset of overall U.S. mobile ad spending, which the firm forecasts to grow from $1.62 billion in 2011 to $9.92 billion in 2016. This puts locally targeted mobile ads at 41% of overall U.S. mobile ad spending in 2011, growing to 58% in 2016.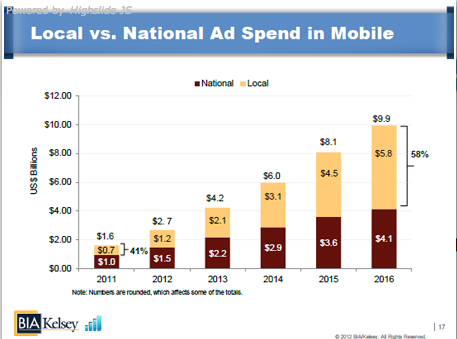 Source: BIA/Kelsey, November 2012

Examining overall local ad spend, in 2011 mobile represented a 0.6% share – this is expected to grow to a 3.1% ad share in 2016.

Growth Factors

Growth factors BIA/Kelsey expects to contribute to the growth of local mobile advertising:

Increased smartphone penetration

Use of location data for ad targeting

New mobile ad formats, such as Facebook's sponsored stories and app install ads.

"In the next one to two years, we will start to see the tipping point where advertisers get it and are starting to develop campaigns that use the mobile device's capabilities rather than just porting over campaigns from other efforts, which so far seems to be the case," Mr. Boland states.


About: BIA/Kelsey defines the local media advertising marketplace as those media that provide local audiences to all types of advertisers. Mobile local advertising is defined as advertising that is targeted based on a user's location. In addition to interviews and company reports, BIA/Kelsey's mobile forecast is based on usage trends, mobile ad spending across various formats, consumer adoption patterns, advertiser penetration and ad performance measurements such as clickthrough and cost-per-click rates, and other benchmarks in online media. These data are vetted against aggregate revenues of top players in each mobile advertising segment (i.e., mobile ad networks). Traditional definitions of ad spending apply to this forecast. At present, it does not include marketing or promotional expenditures such as coupons.

Sources: BIA/Kelsey, BIA/Kelsey Forecasts U.S. Mobile Local Ad Revenues to Grow from $664M in 2011 to $5.8B in 2016, November 5, 2012 and Mobile Marketer, Mobile local ad spend growing more slowly than expected: report, November 5, 2012.