Effective B2B Content Marketing Relies On Engaging Storytelling
Content Marketing

October 2012 -- The purpose of B2B content marketing is to engage buyers with compelling content to educate, inform, entertain, and guide them through the steps in the buying cycle.

Nearly 750 B2B marketers participated in marketing software firm Optify's survey examining content marketing trends. Key results:

TOP CONTENT MARKETING GOALS

Respondents say the top 3 goals for their content marketing are lead generation (68%), thought leadership and market education (50%) and brand awareness (39%).

POPULAR TACTICS

The most popular content marketing tactics are case studies (62%), white papers (61%), press releases (58%) and e-newsletters (55%).

MOST EFFECTIVE FORMATS/TACTICS

B2B marketers consider case studies (78%) the most effective tactic/format, followed by white papers (73%) and in person events (72%).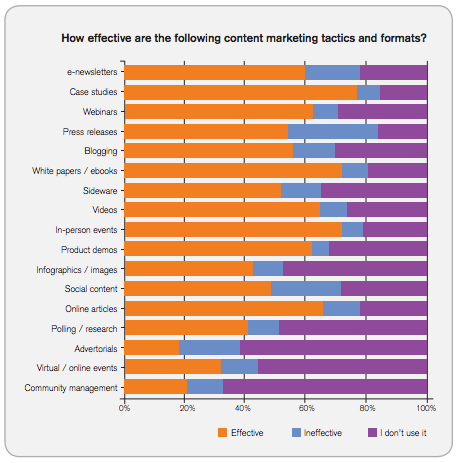 Source: Optify's B2B Content Marketing Trends – 2012 Survey


WHAT MAKES FOR EFFECTIVE CONTENT

Respondents say that effective content marketing is dependent on engaging and compelling storytelling (81%), originality (52%), customized content (49%), followed by professional writing (39%).

CHALLENGES

More than half of the B2B marketers (53%) surveyed say producing engaging content is a challenge, second only to having the time and bandwidth to create content (56%).


About: Optify conducted its survey by soliciting participation from the LinkedIn B2B Technology Marketing Community. The survey was completed by 740 marketing managers, specialists, directors, VPs and COs representing companies of varying sizes across industries.

Source: Optify, B2B Content Marketing Trends – 2012 Survey Results, accessed November 8, 2012.