Smartphones and Tablets Now Account for 1 in 8 U.S. Internet Page Views
Mobile
October 2012 -- According to digital device analysis from
comScore
, smartphones and tablets adoption is rapidly on the rise --
mobile devices accounted for a combined 13.3% of total Internet page views in August 2012, nearly doubling their share of traffic in just one year.

Mobile phones accounted for 9% of page views during the month, while tablets saw a 4.3% share of page views.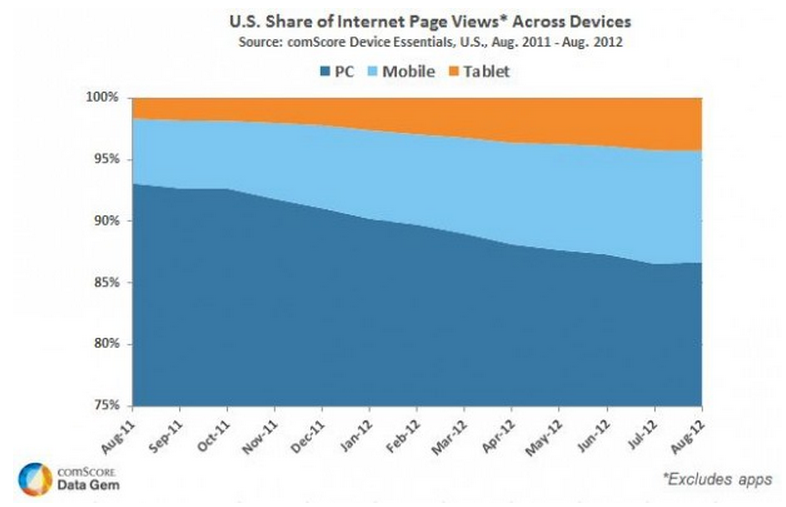 Source: Data from comScore Device Essentials, 2012

While PCs continue to drive the majority of online access, accounting for 86.7% of all page views in August, this is a decline of 6.4 points in the past year, demonstrating how Americans are turning to mobile devices to consume content online.


About: Data is from comScore's Device Essentials, a service reporting on digital traffic by device, which includes computers and other devices, defined as mobile phones, tablets, music players, e-readers, gaming devices, and other web-enabled devices. This data is based on comScore's global Unified Digital Measurement™ (UDM) data, which utilizes census-level information from tagged web page content.

Source: comScore, Mobile Phones and Tablets Now Account for 1 in 8 U.S. Internet Page Views, October 1, 2012.