Holiday Shoppers to Rely On Blend of Sources This Season
Multichannel

November 12, 2012 -- Consumers are expected to rely on a blend of offline and digital information sources as they look for holiday gift ideas and sales this year, according to auditing and consulting firm Deloitte's 2012 Holiday Survey of over 5,000 U.S. consumers.

Mix of media to be used for planning holiday shopping

Two-thirds (67%) of consumers surveyed expect to find out about sales, research gift ideas and read reviews this holiday season through online, social media and mobile, while 60% say they will rely on radio, television and newspapers for this information. Nearly as many (57%) expect to learn about products this holiday season via recommendations from friends and family while 34% point to catalogs as their source of planning this holiday season.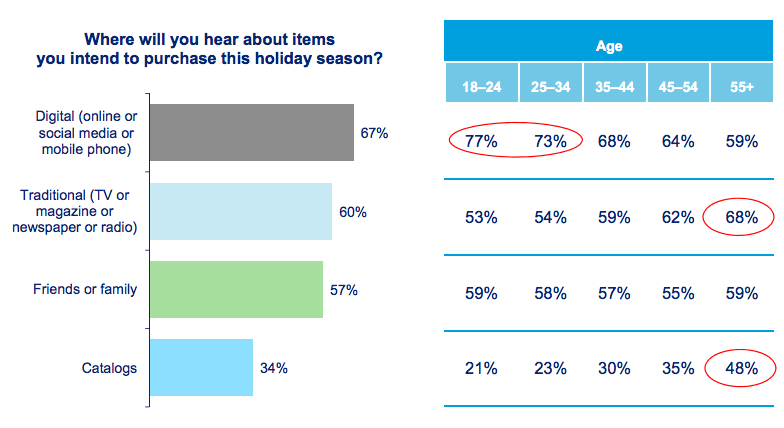 Source: Deloitte 2012 Holiday Survey


Consumers of all ages will turn to digital, TV, newspapers and magazines

Examining the breakdown by age, digital will be relied on more by younger shoppers and print weighs heavier with baby boomers on up -- but overall, the majority of consumers of all ages will rely on a blend of digital and traditional this holiday season.


About: The survey was commissioned by Deloitte and conducted online by an independent research company between September 14 and 24, 2012. The survey polled a sample of 5,089 consumers and has a margin of error for the entire sample of +/- 1 percentage point.
Source: Deloitte, Deloitte's 2012 Holiday Survey, accessed November 13, 2012.