Shoppers Tend to Blame Brands When Mobile In-Store Offerings Don't Work
Mobile
November 6, 2012 -- American consumers are using their mobile devices in ever-greater numbers while they are shopping in retail stores – to compare prices, get product reviews, obtain offers, find product info and more.

However, what happens when in-store mobile technology – such as QR codes, brand apps and websites and text codes – doesn't work properly? According to research from branding solutions provider G2 USA and Savitz Research, shoppers tend to blame the brand for the problem, which can reflect itself in lost sales.

Shoppers between the ages of 18 to 34 were the most likely to feel this way (57%). Millennials are also the most frustrated group when mobile technology that "presumably might have helped them make their purchase decision" didn't actually work.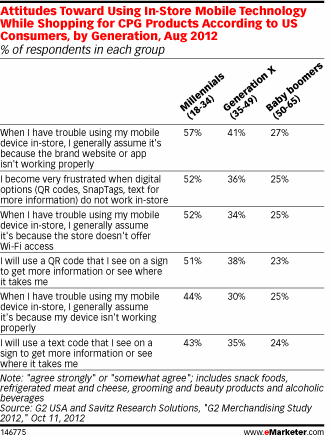 Source of graphic: eMarketer

eMarketer states: "The onus is then on brands to make sure that not only are they putting mobile technology out there to lead consumers down the purchase funnel, they are making double sure consumers have an easy time using that technology and aren't just wasting their time loading and tapping—time they could be spending shopping and buying."


About: This CPG-related data is a sub-set of a larger online survey conducted by G2/Savitz August 8-12, 2012 among 475 US adults ages 18-65 years old (180 18-34 year olds, 190 35-49 year olds, 105 50-65 year olds). Gender: 245 males/230 females.

Source: eMarketer, Consumers Expect Effectiveness From In-Store Mobile Offerings, November 6, 2012.