Marketers: Cross-Channel Marketing Essential; Execution Challenges Hinder Success
Multichannel

October 2012 -- A commissioned study conducted by Forrester Consulting on behalf of global interactive marketing provider ExactTarget examines key challenges marketers face with their cross-channel marketing efforts.

Based on a summer 2012 survey of 211 U.S. marketers who lead campaigns for companies with revenues greater than $100 million, key study findings:

Eight out of 10 (78%) respondents believe cross-channel marketing is important or very important to the success of their business.

Top reasons cited: increased marketing efficiencies, better ROI on campaigns and improved customer relationships.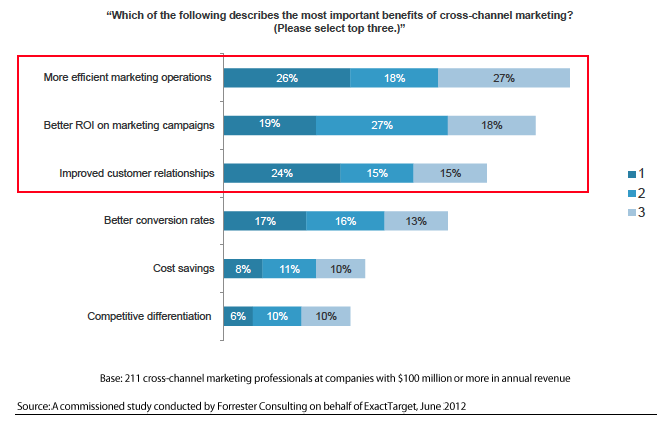 Half (51%) believe their current marketing technologies fall short due to lack of cross-channel analytical models that provide data to improve program performance or predict outcomes; 44% point to a shortcoming in tracking standard key performers across channels, and; 42% cite the inability to access all data about a customer in a usable form.
The top reported challenges facing marketers today:
Managing campaign execution across multiple marketing technologies - 35%

Understanding customer interactions across multiple marketing channels - 33%

Controlling project budgets that are dependent on IT collaboration – 25%

The greatest organizational challenges when it comes to cross-channel marketing:
Not enough staff - 49%

Lack of technical expertise in-house to execute and measure cross-channel efforts – 42%

Staff is siloed – 37%


Source: ExactTarget: The Keys To Successful Cross-Channel Marketing, accessed November 15, 2012.