Americans Consume 11+ Hours of Media Daily
Consumer Attitudes

November 26, 2012 -- Data analysis conducted by eMarketer finds U.S. consumers are increasing the time spent with media content as well as dividing their time and attention among different media channels

In 2012, U.S. adults fit more than 11 hours of media content into an average day via TV, print, radio, mobile, online and other channels. This represents a 10.6% increase in four years.

In the past 4 years, time spent with mobile has increased 273% while time spent with print has decreased 31%.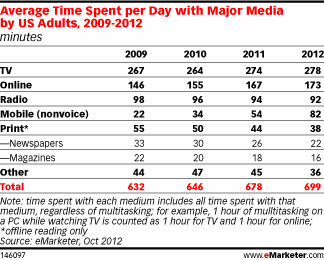 Source: eMarketer


In 2012, american adults spend approximately 4.6 hrs with television and video, followed by nearly 3 hours online, 1.5 hours listening to the radio, nearly 1.5 hours on their mobile devices and less than 45 minutes with print.


Source: eMarketer, Trends for 2013: What Fragmentation Means for 'Critical Mass', November 26, 2012.