Print Catalogs Remain Essential to Many Consumers
Catalogs

November 21, 2012 -- Consumers continue to rely heavily on the print catalogs they receive in the mail, according to a survey of more than 800 randomly-chosen U.S. adult consumers, commissioned by the American Catalog Mailers Association (ACMA) to understand consumers' opinions and behaviors surrounding catalogs.

Key findings:

Two-thirds (66%) of consumers surveyed say they examine the print catalogs they receive in the mailbox.
Nearly six out of 10 (58%) respondents look at catalogs as soon as they arrive.
Catalogs are considered very or extremely useful by 46% of those who receive them, comparable to supermarket and other retail circulars.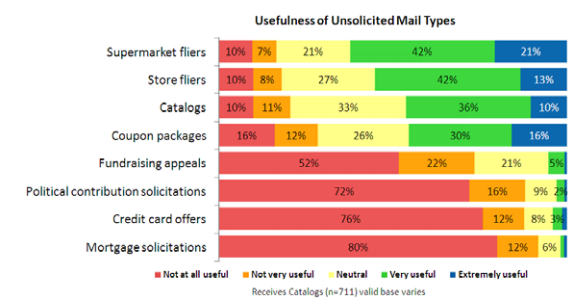 Source: ACMA's Catalogs: The Consumers' Point of View

92% of those who examine the catalogs they receive have made a purchase:


13% within the last week

37% between one week and one month ago

30% between one month and six months ago

20% more than six months ago
While 26% of respondents cite the unique assortment of goods catalogs offer the most, other popular reasons include ease of shopping (24%), convenience (22%), previewing future purchases (18%), and gathering product information (16%).
If catalogs became so expensive to produce and mail that they could only be received through a request to the merchant or through a service, 66% of respondents say they would put forth the effort to request them. More than 1 in 7 consumers (15%) indicate they would even pay to receive catalogs.

"Print catalogs have undergone a transition in recent years," says ACMA President & Executive Director Hamilton Davison. "Despite much attention to online shopping, consumers still turn to their catalogs for crucial shopping guidance. Catalogs are also great browsing vehicles that far exceed online methods in color accuracy, texture and product depth."


About: ACMA commissioned the study conducted by FGI Research in two rounds; one completed in January 2012 and the second round completed in November 2012. FGI conducted a telephone survey among a randomly dialed nationwide sample of consumers ages 18 and up. A total of 817 responses were collected with 86% of the respondents saying they receive catalogs in the mail. While the majority of the survey focused on those who receive catalogs, a few sections included those who do not receive catalogs. Statistical significance testing in this report was done at the 95% confidence level.

Source: American Catalog Mailers Association, Catalogs: The Consumers' Point of View, accessed November 26, 2012.