Millennials: "We Would Shop Less Without Newspaper Inserts"
Inserts/Coupons

Dec. 6, 2012 A new study by marketing services company Valassis finds that while Millennial shoppers (ages 18-34) are accustomed to receiving advertising messages on a daily basis from a variety of online and offline sources, newspaper inserts play an important role in their shopping routines, purchasing decisions, and often spur online shopping.

MILLENNIALS: "I WOULD SHOP LESS WITHOUT INSERTS"

The 2012 Valassis' Consumer Print Usage Survey results reveals 91% of Millennials who use newspaper inserts utilize them to save money, and 60% – more than nearby generational groups – say they would shop less without newspaper inserts.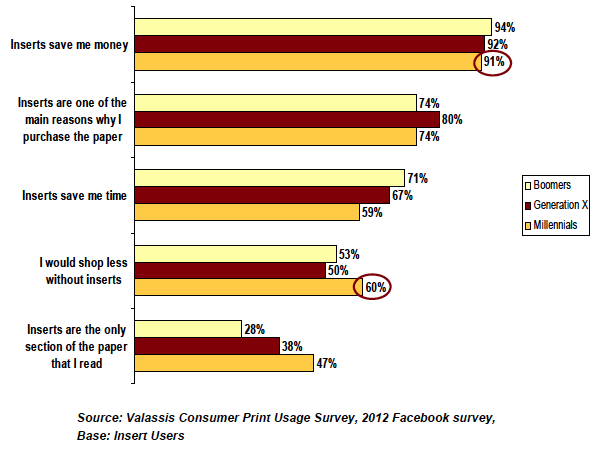 INSERTS DRIVE PURCHASES

Newspaper inserts guide Millennials in shopping activities: by alerting them to sales (68%), driving them to purchase (51%), reminding them of a need (46%), helping them decide where to buy (35%), and informing them of product and services (26%).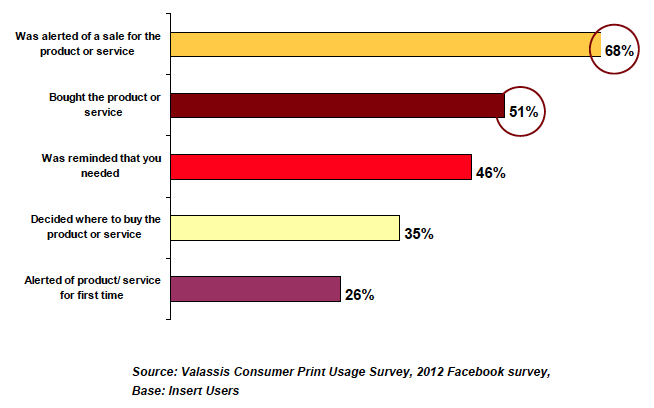 INSERTS PROMPT USERS TO GO ONLINE

30% of Millennial newspaper insert users say they are prompted to go online for more information after seeing a product or service in a newspaper insert.

MILLENNIALS USE INSERT OFFERS FOR DINING OUT, CLOTHES, MEDIA PURCHASES AND MORE

Millennial shoppers use newspaper inserts when choosing restaurants, apparel, telecom products and services and more:

87% of Millennials who use newspaper inserts utilize them regularly or occasionally when selecting a restaurant

84% of Millennials use inserts to find coupons or discounts when shopping for apparel

64% of Millennials who use newspaper inserts when making decisions on telecom products and services.


About: Valassis conducted an online survey of 858 consumers who use Facebook to understand print media usage of consumers who use social media. The survey was distributed through social media in order to reach a large sample size of Millennials, ages 18-34 (n=344). Surveys were conducted in August 2012.

Source: Valassis Communications, Valassis Survey Reveals the Importance of Traditional Media in Millennial Shopping Behaviors, December 6, 2012.