A Third of Small Town Americans Rely Solely On Traditional Media for News
Newspapers

Small town and rural residents are more likely to rely solely on traditional forms of media for their local news than those in larger cities and suburbs. Three in 10 residents (34%) in less populated areas rely exclusively on traditional sources of information such as print newspaper and local television broadcasts (31% and 34%, respectively), compared with 21% of residents of large cities and 16% of those living in suburban communities.

Close to half of urban (45%) and suburban (51%) residents use a combination of traditional, online and mobile local news media to get their local news, compared with 38% of those living in small cities and 27% of rural residents.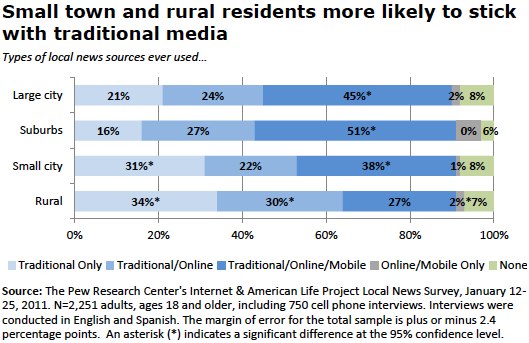 Urban residents tend to use online sources of local information such as internet searches, Twitter, blogs, and websites of TV and newspapers. Rural residents, in contrast, are the least likely to look to online sources of local news, "not surprising, given their lower tech use relative to other populations," and more likely to depend on print newspapers and broadcast TV news and word of mouth, finds Pew.

Urban residents' "reliance on a greater number and diversity of local news sources may result from the fact that urbanites tend to be younger and more tech savvy than their rural counterparts," reports Pew. Although internet use is widespread across residents of all community types, residents of large cities and suburbs are more likely to use the internet and be social media users.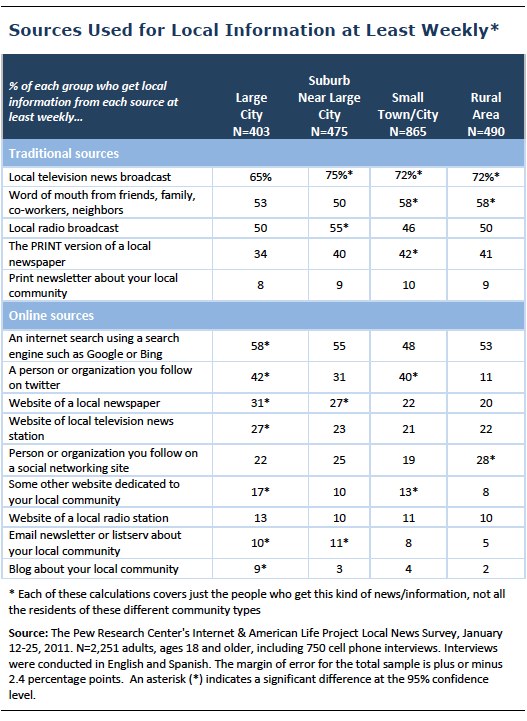 Source: The Pew Research Center's Internet & American Life Project Local News Survey, How people get local news and information in different communities (Sept. 26, 2012), accessed December 10, 2012.