U.S. Newspaper Ad Revenues Again Decline, Though Decreases Slow
Newspapers

November 28, 2012 -- Per the latest figures from the Newspaper Association of America (NAA), overall U.S. newspaper advertising revenues continue the decline that started in earnest in 2006, and has continued for 25 consecutive quarters.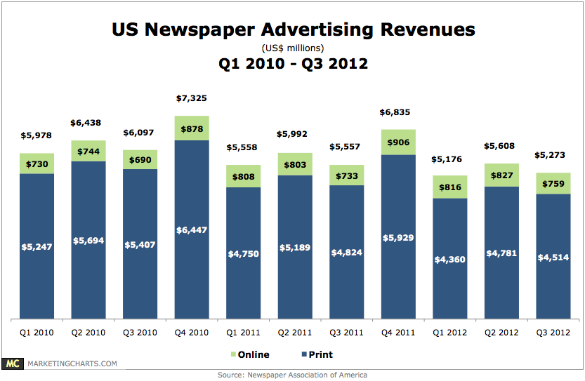 Source of graphic: Marketing Charts


TOTAL PRINT AND ONLINE REVENUES DOWN 5.1%

Total 2012 Q3 print and online revenues were down 5.1% year-over-year to about $5.3 billion. As reported by Marketing Charts, "if there's any bright spot to be found in the results, it's that this was the smallest decrease since Q4 2010 (-4.67%), and the smallest Q3 drop since Q3 2006 (-1.5%). In fact, the decline in print revenues (-6.4%) was the least consequential since Q1 2007 (also -6.4%). And while year-over-year growth in online revenues (3.6%) was below levels from last year, it was still the fastest rate of this year."

NATIONAL AD SALES HIT HARDEST

The 2012 Q3 decline in print newspaper ad expenditures was again felt the hardest in national ad sales (-10.4% year-over-year to $738.1 million). Classifieds revenues dropped 4.8% year-over-year to $1.14 billion. Retail, the largest ad spend category, fell by 6%, to $2.6 billion.

BRIGHT SPOTS IN RETAIL AD SPEND

Examining retail ad spend: computers/electronics (12.9% share of retail spend), home supplies/furniture (14.5% share), and general merchandise (25.9% share) were the only verticals to see an increase in ad dollar expenditures.

NATIONAL AD SPEND FOR COUPONS ON THE RISE

National ad spend for coupons rose from $198.1 million in Q3 2011 to $221 million in Q3 2012, making for 30% share of national ad sales in Q3 2012.


Source: Marketing Charts, US Newspaper Ad Revenues Continue to Fall, Down 5% Y-O-Y in Q3, November 28, 2012.