Smartphones Now Account for 17% of Time Spent With Internet
Mobile

December 17, 2012 -- As consumers increasingly rely on smartphones as a major source of Internet access, new GfK analysis shows that social media represents by far the largest share of online time via these devices.

Social media activities account for almost one-third (31%) of smartphone online minutes – double the proportion for email, which ranks second at 16%.
Smartphones now account for 17% of total time spent with the Internet across all devices, compared to 12% in 2011.
Time spent on laptop and desktop PCs, by contrast, have dropped off, representing 73% of Internet time, compared to 83% a year ago.


Social media represents 18% of time spent on the Internet via PCs; Email also represents 18% of time spent on the Internet via PCs.
Time spent accessing online video via PCs has essentially doubled in the past year, from a 7% share to 13%.
The percent of time devoted to uncategorized "Other" Internet activities on PCs has dropped by almost half in just a year, from 37% in 2011 to 20% in 2012.

Share of Time Activity by Device, 2012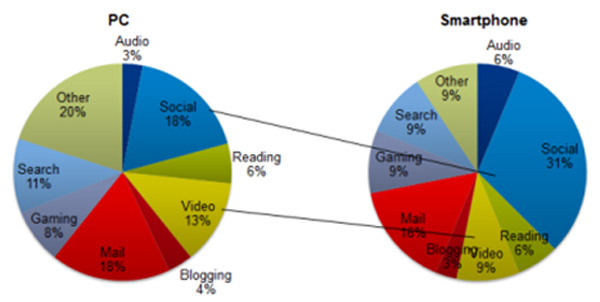 Source: Gfk, December 2012
Tablets account for 6% of online time – double the 2011 figure of 3%.
Time spent watching Internet TVs also doubled, from 2% of online time in 2011 to 4% this year.
About: Gfk's MultiMedia Mentor® tracks use of eight major media. These survey results are based on interviews with 2,616 members of KnowledgePanel®, an online panel derived from a statistically projectable sample of the U.S. population. Interviewing for this latest wave of Mentor data was conducted between February and July 2012 with panel members ages 13 to 64.

Source: Gfk, Social Media Dominates Smartphone Internet Time, Accounting for Almost One-Third of Minutes, December 17, 2012.