84% of Americans Go Online Daily; Increase Thanks to Smartphones
Digital/Online
December 19, 2012 -- Forrester Research's annual report on The State Of Consumers And Technology: Benchmark 2012 U.S., examines consumers and technology and serves as a benchmark for understanding how consumers have changed over the years.

While age is a key factor behind consumers' usage of and attitudes toward technology, Forrester reports one finding spans all generations: American consumers of all ages are online and connected -- with people and brands. Online penetration in the U.S. remains the same as a year ago — at 79% of all adults — yet the depth of Internet usage has grown with more consumers go online daily and they connect via more devices. In 2011, 78% of U.S. adults went online daily; In 2012, Forrester reports that 84% now go online at least once per day.

Forrester notes the reason for this is the growing smartphone and tablet penetration. Forrester found that approximately half of U.S. online adults now own a smartphone and tablet adoption has doubled since 2011 and is now at 19%.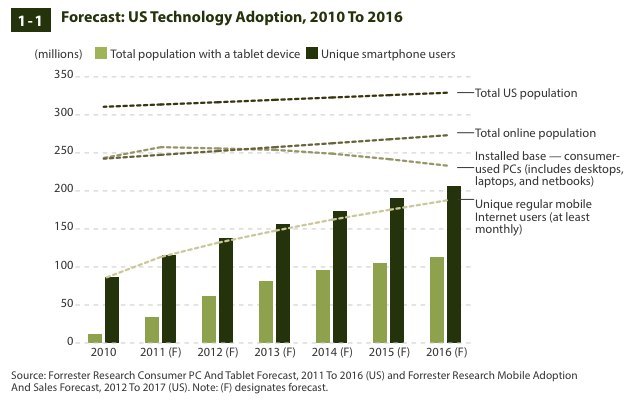 Thirty-six percent of U.S. online adults access the Internet via their smartphones -- and use their device from almost everywhere.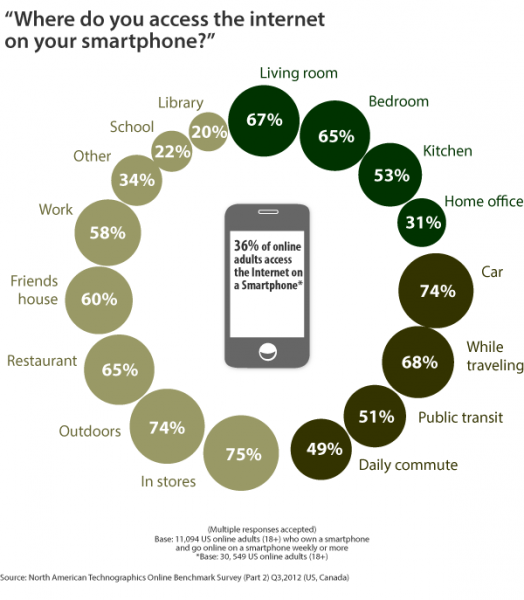 About: Forrester's online survey was fielded in April and May 2012 of 58,068 US online adults ages 18 to 88. For results based on randomly chosen sample, there is 95% confidence that the results have a statistical precision of plus or minus 0.4% of what they would be if the entire population of US online individuals ages 18 and older had been surveyed. Forrester weighted the data by age, gender, income, broadband adoption, and region to demographically represent the adult US online populations. The survey sample size, when weighted, was 57,499. (Note: Weighted sample sizes can be different from the actual number of respondents to account for individuals generally underrepresented in online panels.) Please note that this was an online survey. Respondents who participate in online surveys generally have more experience with the Internet and feel more comfortable transacting online.

Sources: Forrester Research, THE STATE OF CONSUMERS AND TECHNOLOGY: BENCHMARK 2012, US" SHOWS HOW CONSUMERS CONNECT, December 19, 2012 and TechCrunch, Forrester: 84% Of U.S. Adults Now Use The Web Daily, 50% Own Smartphones, Tablet Ownership Doubled To 19% In 2012, December 19, 2012.