SMBs to Spend a Healthy Amount On Local Advertising In 2013
Ad Projections

January 2013 -- According to "2013 Local Advertising Outlook," a report from Borrell & Associates, local ad spend will grow 8.2%, from $88.9 billion in 2012 to $96.2 billion in 2013.

One area expected to see a large uptick is the amount of marketing dollars small and medium size businesses (SMBs) plan spend to on local online media. Borrell predicts local online ad spending will grow from $18.7 billion last year to $24.5 billion in 2013, comprising a quarter of all local advertising. This represents a 31% increase over 2012 -- this on top of the 20% growth local online advertising experienced in 2012.

Additional marketing mix findings from the survey of 1,756 small and mid-sized businesses:

Some 54% of respondents said they will spend the same on total advertising this year as 2012, only 20% will spend more and 16% will spend less. Gordon Borrell states, "This indicates that the growth in online advertising might come from newcomers and high-rollers."
Examining overall media purchased in 2012, local newspapers advertising held the top spot at 64%, followed by online ads (62%), ads in local publications (54%), and direct mail (45%).
2012 SMB Ad Spend: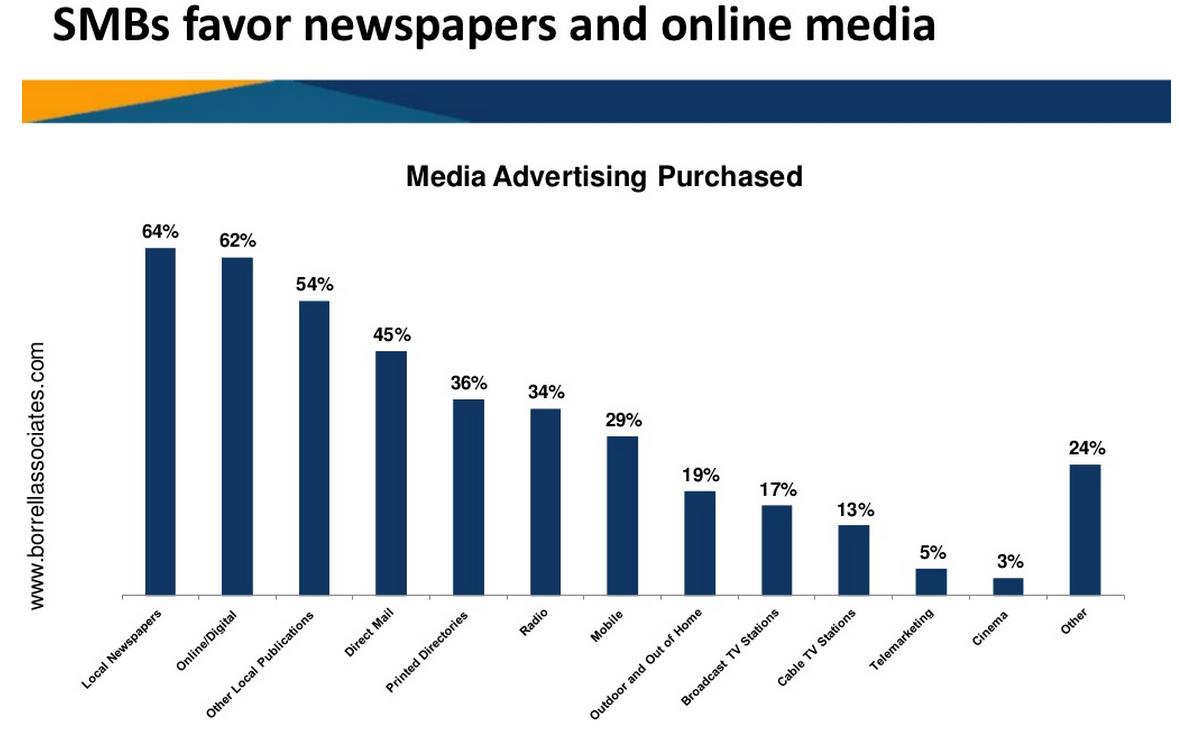 Source: Borrell & Associates, Local SMB Advertisers – 2013 Ad Spending Preview
In 2013, online media will be tops in terms of local ad share, beating out newspapers in all but four U.S. markets.
Top areas of spending increases for SMBs this year are online (+38%), mobile (+25%) and direct mail (+18%).


2013 SMB Ad Budgets: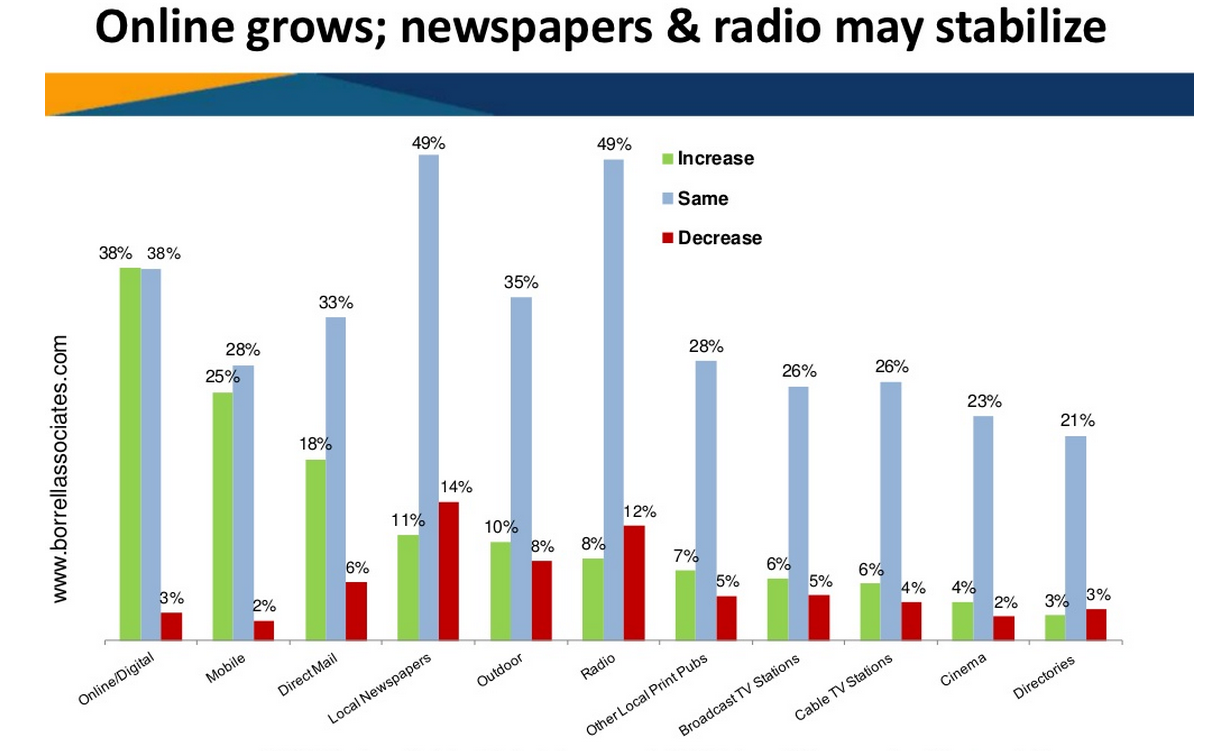 Source: Borrell & Associates, Local SMB Advertisers – 2013 Ad Spending Preview
Two media categories are predicted to see declines: local radio is predicted to drop 5.9%, and local magazines, shoppers and alternative newsweeklies will decrease by 2.5%.
In 2012, one in four (24%) respondents employed a mobile ad campaign, while 79% did not. For 2013, 37% state they are "somewhat" or "very likely" to incorporate mobile advertising into their marketing efforts.
Eight out of ten (79%) SMB respondents report having a social media presence.
Facebook is the top choice for 2013 online spending with 28% of respondents state they will place ads directly with Facebook, followed by 25% who will purchase run-of-site banner ads.
Some 42% of respondents have no plans to purchase online advertising.

About: The 2013 forecast is based on an online survey of 1,756 small and midsize businesses, conducted between December 10 – January 3, 2013. This sample size has a margin of error of 2.5% at a 95% confidence level.

Sources: SMBNow, Survey Says SMB Ad Spending To Rebound In 2013, January 9, 2013 and Borrell & Associates, Local SMB Advertisers – 2013 Ad Spending Preview, accessed January 14, 2013.