Forecast: U.S. Newspaper Ad Revenues, Print/Digital
Newspapers
December 2012 -- According to analysis by eMarketer, U.S. newspaper print ad revenues are expected to drop significantly in the coming years, dropping from $19.14 billion in 2012 to $16.4 billion in 2016.

Digital revenues, which include all digital platforms, are expected to rise slightly to $4 billion in 2016, from $3.4 billion in 2012 -- thus not covering losses from print.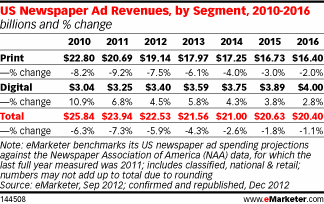 eMarketer benchmarks its U.S. newspaper ad spending projections against the Newspaper Association of America (NAA) data for which the last full year measured was 2011.

eMarketer projected in January 2012 that the 2012 U.S. newspaper ad spending would reach $23.1 billion total. The forecast was revised slightly downward, to $22.53 billion, based on faster-than-expected declines.

The figures include classifieds and national and retail advertisements.


Source: eMarketer, The World's Most-Read Online Newspaper Changes the Rules, Dec. 26, 2012.