Print Catalogs Influence Holiday Shopping More than Social Media and Mobile
Catalogs

Jan. 8, 2013 — Baynote, a provider of personalized customer experience solutions, surveyed 1,000 U.S. smartphone-owning holiday shoppers in order to gain insight into consumer behavior and key buying influencers across the mix of retail channels -- physical stores, shopping websites and social networks. From their 3rd Annual Holiday Online Shopping Survey:

Next to online reviews, print catalogs most influenced holiday in-store purchases. Print catalogs also beat out social media and mobile for influencing both in-store and online holiday purchases.

Online ratings and reviews were most likely to influence both online and in-store purchases (33% and 24%, respectively).
Google search results, featuring a picture of the product, came in as the second biggest influencer for online purchases at 26%, while print catalogs (21%) came in second for influencing in-store purchases.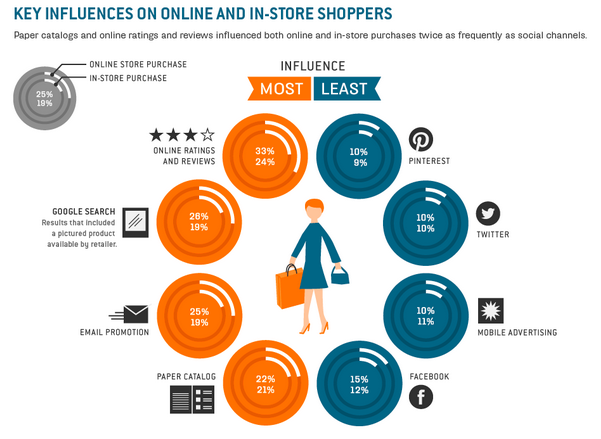 Source: Baynote, 3rd Annual Holiday Online Shopping Survey, 2013
Social channels were most influential among younger consumers (aged 25-34), while paper catalogs got the attention of the 45+ crowd.

In the End, Traditional Factors Determine Purchase

Despite all the tools available, online shoppers' final purchase decisions were based on free shipping for online purchases (85%), merchant reputation (78%) and product reviews (71%). In-store shoppers pointed to final price, including promotional offers (85%), and return policy (65%).

"While it is important to embrace new forms of marketing, successful organizations recognize that all direct to consumer efforts are part of an omni-channel strategy to reach different consumer segments," Dan Darnell, VP of Marketing, stated. "Younger consumers may be more influenced by social and online purchases while older consumers will continue to use paper catalogs and buy in-store. As the lines between these start to blur, making sure that all forms of marketing reinforce each other is key to creating a seamless experience across touch points."


About: The survey was administered to 1,000 U.S. consumers between November 26 (Cyber Monday) and Dec. 5, 2012. All respondents owned smartphones while 54.6% owned tablets. The survey was equally divided between male and female respondents. Only consumers who made four or more purchases and spent over $250 completed the survey.

Source: Baynote news release, Paper Catalogs Influenced Holiday Shopping Behavior More than Twitter, Pinterest and Facebook, Jan. 8, 2103.