Hot Print Markets For 2013-2014
Ad Projections
January 2013 - Printing Impressions has compiled their annual projection for the hottest print markets by sector.

PACKAGED FOODS RANKED TOP HOT MARKET

Packaged Foods ($1.15T, +4 percent; with $17.8B to print, +11 percent) ranked number one, with a revenue forecast of $1,151 billion, thanks to a potential 4% growth rate for 2013-2014.

Printing Impressions cites varied drivers, such as, "smart printing in-pack, on-pack, near-pack, in-aisle, on-cart, end-aisle, on-shelf, dangling down and topped with near-field QR codes, Augmented Reality and nano-propertied inks and substrates that wink, blink, bubble, scratch and talk...Also in the cart, containers, lids, sleeves, bags, wrappers and labels that are two-thirds of this sector's print demand."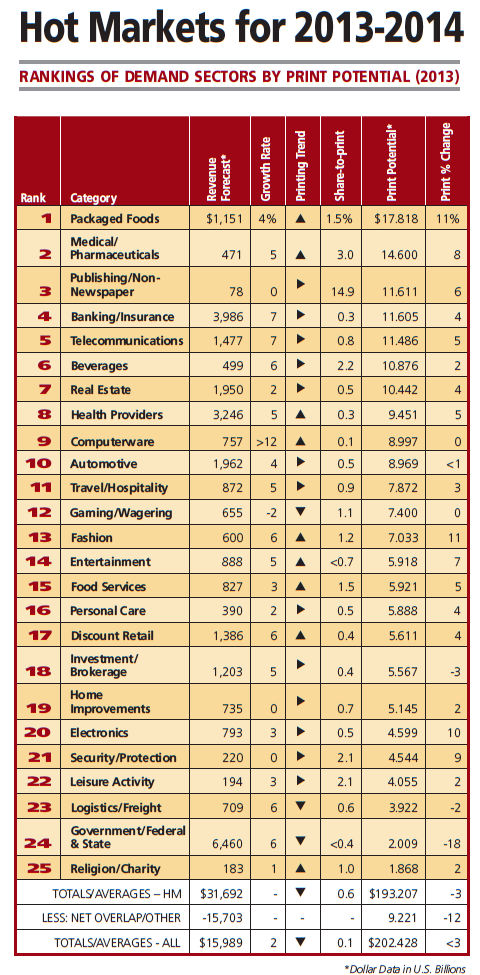 Source: Printing Impressions, January 2013


MEDICAL/PHARMA AND PUBLISHING RANKED NUMBER 2 AND 3, RESPECTIVELY

Medical/Pharmaceuticals ($471B, +5 percent; with $14.6B to print, +8 percent) ranks 2nd, while Publishing ($78B, +0 percent; with $11.6B to print, +6 percent) will grow to number 3, thanks to many more book titles are introduced via very-short-run digital printing and finishing," and "tablets and other non-print delivery of literature are creating demand for hard copies from new readers, on-demand of course." With this said, "newspapers, unable nor willing to cross media, will continue in diminishment of circulation and page count, thus folding FSI demand."

Now in its 34th year, Printing Impressions' "Hot Markets" is the longest continuous forecast of the printing industry, by sector, region and product.

Source: Printing Impressions/ Vincent Mallardi, 2013 Hot Print Markets : Food for Thought, Profit, January 2013.