Survey: Publishers Upping Their Investment In Mobile
Mobile

January 25, 2013 --The Alliance for Audited Media's 2012 Digital Media Survey asked its U.S. and Canadian newspaper, magazine and business publication members how they are innovating and investing in cross-media platforms. Select findings:

ALL RESPONDENTS TO GO MOBILE BY END OF 2013

Ninety percent of member media companies are distributing their content via mobile, compared to three years ago when 51% of respondents reported a mobile presence. In the coming year, the remaining 10% plan to produced mobile-optimized content, making for 100% of all member publishers going mobile.

DEVELOPING MULTIPLE MOBILE APPS

For the first time since AAM began conducting this survey in 2009, publishers are developing more apps for the iPad (87%) than the iPhone (85%). Other devices apps are being created for: Android (75%), Kindle (67%) and Nook (57%).
Over half of publishers reported having mobile apps for every major smart mobile device.
In determining the best path to reach audiences on mobile devices, 63% agree that "tablets are the most important digital channel for their publication's future."
ANTICIPATED GROWTH IN MOBILE AD REVENUE
For 17% of publisher respondents, mobile currently represents at least 10% of overall advertising revenue. By 2014, 46% of publishers expect mobile to represent at least 10% of their overall ad revenue.

ANTICIPATED GROWTH IN CIRCULATION REVENUE

In 2012, mobile did not play a key role in media companies' circulation revenues, but many respondents expect that to change -- by 2014, 41% expect mobile to account for at least 10% of their overall circulation revenue.

PAYWALLS

With an eye on profitability, more respondents report moving to some form of a paywall. Of those currently not using a paywall, 44% plan to implement one in the next 24 months.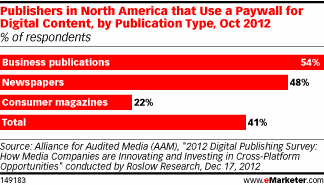 Graphic by eMarketer
Business publications and newspapers are more than twice as likely to have implemented a paywall as magazines.
The most employed paywall is metered, allowing consumers to access a set number of articles before payment is required. Almost 40% are using this type of paywall, while 17% are using a hard paywall (payment required to read any content). One-third (33%) are using a combination paywall that restricts access to premium content.

CHARGING FOR CONTENT

Publishers are most likely to charge for content on the iPad (56%), followed by the iPhone (42%), Kindle (38%), and Nook (31%). Nearly 40% don't charge for content on any device.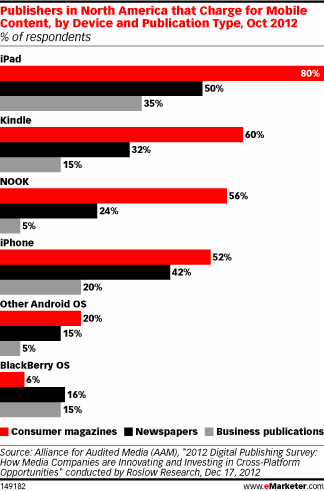 Graphic by eMarketer


PUBLISHERS REMAIN PRAGMATIC ABOUT PRINT

AAM reports survey respondents "are still pragmatic about their print publications." Less than 15 percent said they have plans to reduce their print publishing frequency and less than 3% think their publication will be digital-only in the next five years.


About: The Alliance for Audited Media (AAM) is a nonprofit organization that connects North America's leading media companies, advertisers and ad agencies. Formerly know as the Audit Bureau of Circulations (ABC), the AAM has conducted this survey annually since 2009. The in-tab sample consisted of 210 respondents. Interviews were completed online between October 8 and 26, 2012. The survey was conducted in conjunction with Roslow Research.

Sources: The Alliance for Audited Media, 2012 Digital Media Survey Findings, accessed January 28, 2013, and eMarketer,This Year, All Publishers Go Mobile, January 25, 2013.