Online Video Ad Views Experience 59% Y-O-Y Growth
Online Video

January 14, 2013 – The latest data from comScore Video Metrix service finds U.S. Internet users viewed 11.3 billion video advertisements in December 2012. The number of video ads viewed were twice as many as January 2012, representing a 59% year-over-year growth, reports Marketing Charts.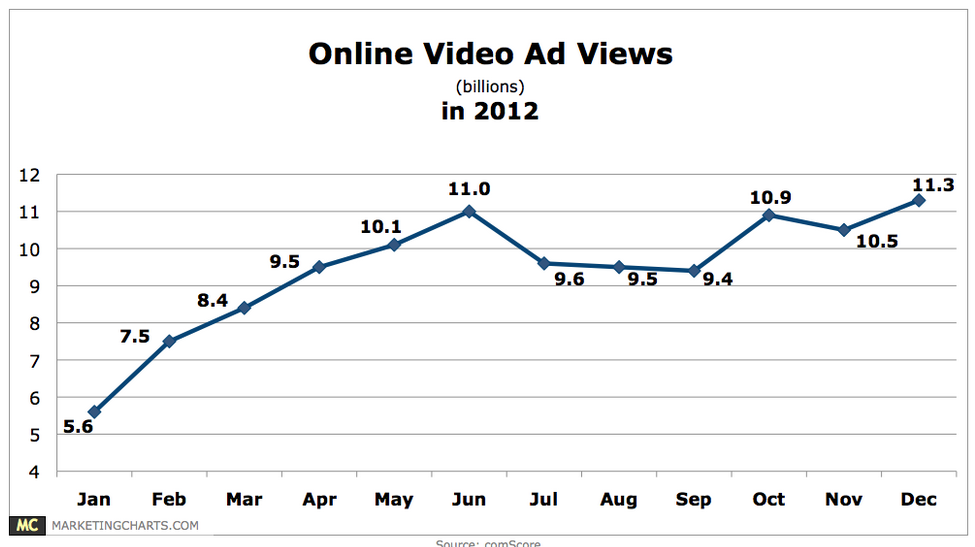 Source of Data: comScore, December 2012. Source of graphic: Marketing Charts


Additional December 2012 online video findings:
Time spent watching video ads totaled 4.1 billion minutes.
Video ads reached 53% of the total U.S. population an average of 70 times during the month. Hulu delivered the highest frequency of video ads to its viewers with an average of 65, while Google Sites, such as YouTube, delivered an average of 20 ads per viewer.
The average online content video was 5.4 minutes in length, while the average online video ad was 0.4 minutes.
Video ads accounted for 22.6%% of all videos viewed and 1.9% of all minutes spent viewing video online.
182 million online users (84.9%) watched 38.7 billion online content videos.
Google Sites, driven primarily by video viewing at YouTube.com, was again the top online video content property with 153 million unique viewers. Facebook was next with 58.8 million, followed by VEVO (51.6 million), NDN (49.9 million) and Yahoo! Sites (47.5 million).
About:
Video ads include streaming-video advertising only and do not include other types of video monetization, such as overlays, branded players, matching banner ads, etc.
Source:
comScore,
comScore Releases December 2012 U.S. Online Video Rankings
, Jan. 14, 2013, and Marketing Charts,
Americans Watched More Online Video Ads in December Than in Any Prior Month
, Jan. 15, 2013.