B2B Marketers Feeling Optimistic; Half to Up Budgets In 2013
B2B
January 2013 -- Highlights from BtoB's annual
2013 Outlook: Marketing Priorities and Plans
special report:
HALF OF B2B MARKETERS TO INCREASE BUDGETS
Nearly half of B2B marketers (49%) plan to increase their marketing budgets this year, up from 40% last year; 42% will hold budgets steady, down from 48%; and 9.5% will decrease budgets, down from 10.8%.

TOP GOAL: CUSTOMER ACQUISITION

The top marketing goal for B2B marketers this year is demand generation/customer acquisition (69%), trailed by brand awareness (18%) and customer retention (13%).

DIGITAL MARKETING REMAINS HOT

According to the survey, 67% of marketers plan to increase their spending on digital marketing in 2013. Within digital marketing, the top spending areas will be website development (with 70% of marketers planning increases), email marketing (62%), social media (56%), online video (55.8%) and search (52.5%).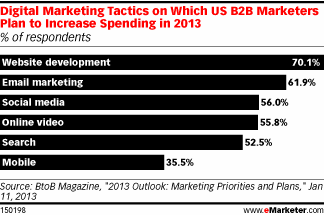 Graphic Source: eMarketer

Other areas projected to see increases include social marketing (54%), events (42%), mobile (35%), direct mail (35%) and telemarketing (22%). Marketers said they planned to cut budgets for print, radio, outdoor and TV.

WEBSITE DEVELOPMENT A TOP PRIORITY

Website development is the top digital marketing area of priority this year, with 70% of marketers planning to up spending. Other channels gaining budget dollars include: email (62%), social media (56%), video (56%), search (53%), webcasts and virtual events (42%); 36% plan to increase their spending on mobile marketing this year.

PLATFORMS AND SYSTEMS THAT WILL SEE INVESTMENTS

More than half (52%) of marketers plan to invest in sales enablement (defined as arming an organization's sales force with access to the insight, experts, and information) platforms this year, and 50% will invest in marketing automation systems.

SEVEN OUT OFF 10 USING CONTENT MARKETING

The Outlook survey found that 72% of B2B marketers use content marketing as part of their overall marketing strategy. The top content marketing platforms: websites (93%), social media (65%), print (47.5%) and mobile (21%).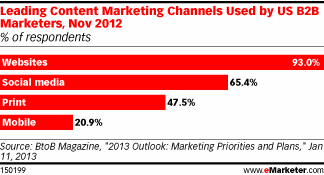 Graphic Source: eMarketer


About: The BtoB Outlook annual report, now in its 10th year, was based on an online survey of 366 B2B marketers, conducted between Nov. 12 and Nov. 30, 2012.

Source: BtoB, Almost half of marketers to boost budgets this year, Jan. 11, 2013, and, Marketers show robust optimism, Feb. 4, 2013, and eMarketer, Web Development Top B2B Priority in 2013, Jan. 28, 2013.