Marketers Shift Focus From Traditional Tactics ... But Not Direct Mail
Ad Projections

January 30, 2013 -- According to a survey conducted by global staffing organization Aquent and the American Marketing Association (AMA), marketers share that the channels they expect to decrease focus in most include newspapers (32%), consumer magazines (28%), and radio(24%).

While print is taking a hit, in general, direct marketing is not an area that many marketers plan to shift focus away from -- only 9% cite this tactic as an area of declining focus.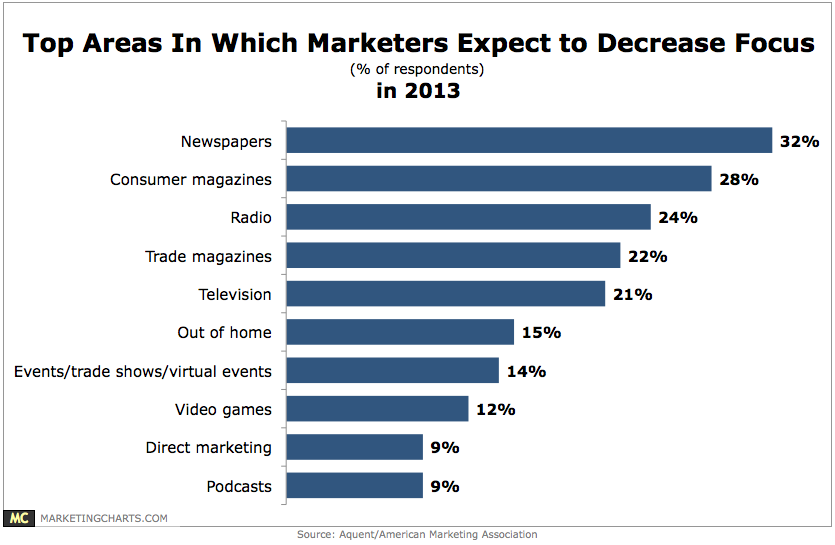 Graphic Source: Marketing Charts, 2013
Asked the top channels marketers think will be most in demand, respondents pointed to social media marketing (25%) and online content (21%).

Mobile marketing was cited by just 12% of respondents as a tactic that will be most focused on. With this said, and as reported by Marketing Charts, "mobile marketing skills will be hotter in 2-3 years." While half see social media marketing as the hottest job in 2-3 years, mobile marketing isn't far behind, at 40%, say survey respondents.


About: The online survey was conducted by Inavero on behalf of Aquent and the American Marketing Association among 2,620 U.S. marketing professionals, from senior-level executives to entry-level marketers across a variety of industries and organization sizes. Marketing professionals working within agencies represented 24% of responses. Marketers from health-care, financial services, professional services, and retail, e-tail & distributors were also well represented, with each providing more than 15% of the total responses. The survey was conducted between the Oct. 31 and Nov. 19, 2012. Respondents included marketing professionals on lists provided by both Aquent and AMA. With a pure probability sample of 2,620, one could say with a 95% probability that the overall results have a sampling error of +/- 1.9 percentage points. Sampling error for data from sub-samples is higher and varies.

Source: Marketing Charts, Marketers Say They're Shifting Focus Away From Traditional Media, January 30, 2013.