Print's Future Hinges On Integrating with Digital and Mobile
Trends/Issues

January 31, 2013 -- According to a recent InfoTrends study entitled Understanding Vertical Markets: Enterprise Communications Requirements, marketers are, unsurprisingly, planning to shift more dollars away from print and into digital media. Print's future role, the study finds, hinges on its ability integrate with the mobile and online channels.

InfoTrends surveyed over 1,000 enterprise-size corporations across 10 vertical markets as to their multi-channel communications strategy, among other things.

Findings:

According to survey respondents, In the next 2 years, while print will still make up 30% of marketing spend, it is expected to decline by -6.2%.
Over the next two years, online marketing is expected to increase 4.9% and mobile will experience the highest growth, with expenditures increasing by 8.8% (from 10.2% to 12%).
According to InfoTrends, "firms understand the value in combining print and electronic media," as enterprise respondents shared that 47% of their printed marketing materials had been linked to online digital channels in the past 12 months.
The top three types of digitally linked print marketing media: brochures (56.1%), direct mail (52.1%), and bills/statements (41.5%). Websites, social media, and mobile apps are the top digital content customers are directed to.
Survey participants were asked the reasons for blending print and digital marketing channels. The top 3 responses: to expand audience reach (33.9%), to reach a target demographic (32%), and improve campaign response rates (31.5%).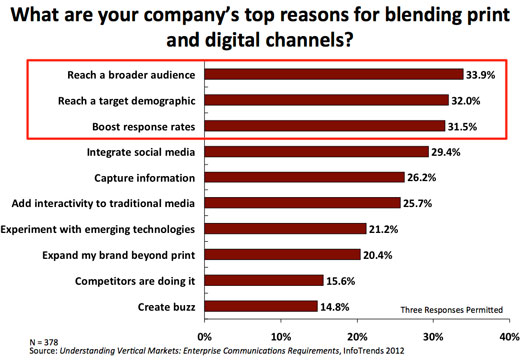 "Print is not disappearing, but its use is declining and its role is changing," says Steve Adoniou, Director of InfoTrends' Consulting Service. "Competition from electronic channels is reshaping the use of print and the production methods to deliver it. Defending prints' role will require investment in workflow automation enhancements that improve productivity, delivery speed, and cost."


About: For this 2012 study, InfoTrends surveyed 1,026 corporations, with 500+ employees, across 10 vertical markets (automotive, education, financial services, insurance, government, healthcare, hospitality, retail, manufacturing, utilities).

Sources: What They Think, 2013 Really IS the Year of Print Plus!, January 31, 2013, and Infotrend news release, Competition from Electronic Channels is Reshaping the Use of Print Across Vertical Markets According to InfoTrends Study, December 18, 2012.