CMOs Pull Back On Offline Ad Spend, Up Investment In Digital
Ad Projections
February 26, 2013 -- Duke University's Fuqua School of Business latest version of The CMO Survey finds marketers continue to shift budgets away from traditional media and towards digital marketing channels.

TRADITIONAL AD SPEND EXPECTED TO DECREASE 2.7% IN NEXT 12 MONTHS

In the February 2013 survey of CMOs, administered twice annually to observe trends, top U.S. marketers forecast a 2.7% decrease in traditional advertising spend over the next 12 months. This follows a trend -- a 1.9% decrease was forecast in August 2012 and a 0.8% decrease in February 2012. In August of 2011, the traditional media spend forecast was a positive 1.3%.

OTHER MARKETING CATEGORIES TO SEE INCREASES, BUT AT A SLOWER RATE

All other marketing spend categories are positive, but slower growth is expected in the next year.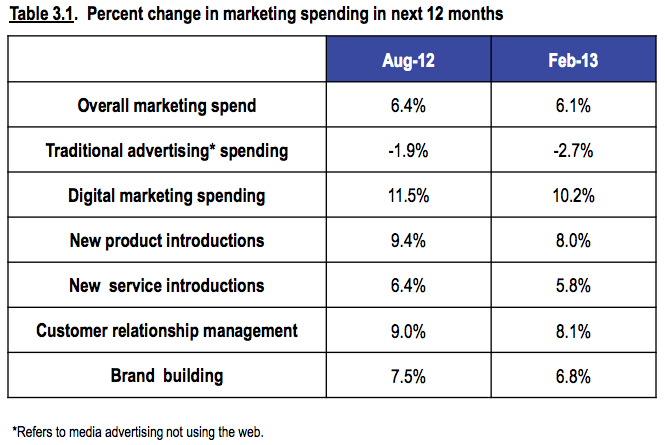 Source: CMO Survey, Feb. 2013

A POSITIVE PICTURE FOR DIGITAL ADVERTISING

The survey finds the picture is rosier for digital marketing. CMOs predict digital spending to grow by 10.2% in the next year.

AD SPENDING IN THE NEXT 12 MONTHS BY SECTOR

Examining changes in digital and traditional advertising spending in next 12 months by sector, offline marketing of services to consumers will take the biggest hit (-5.4%) while the traditional marketing of products to consumers should experience a minimal decrease of -0.6% Digital spending excels across the board with the greatest emphasis on online advertising of consumer products (14.6%).

Changes in Digital and Traditional Ad Spending In Next 12 Months by Sector
B2B Products
B2B Service
B2C Products
B2C Services
Traditional Ad Spend
-4.1%
-2.2%
-0.6%
-5.4%
Digital Ad Spend
8.2%
10.5%
14.6%
10.4%
Source: CMO Survey, Feb. 2013
MARKETING SPEND ACCOUNT FOR 10.6% OF OVERALL FIRM BUDGETS

Currently, CMOs say marketing budgets account for an average of 10.6% of overall marketing budgets (down from 11.4% in August 2012). Overall marketing spend is expected to grow by 6.1% over the next year.

B2C ALLOCATING THE LARGEST SHARE OF OVERALL BUDGET TO MARKETING

As a percentage of overall firm budgets, B2C product companies devote the largest share to marketing (16.3%). B2C services companies had reported 16.8% share of budgets going to marketing in February 2012, but that dropped to 10.9% in the most recent survey.


About: Online survey conducted twice/annually. Survey sample for February 2013: 4,963 top U.S. marketers at Fortune 1000, Forbes Top 200, and Top Marketers who are AMA Members or Duke University Alumni and Friends; 468 responded for a 9.4% response rate; 95% of respondents VP-level or above. Survey in field from January 22 - February 8, 2013.

Source: Duke Fuqua School of Business, The CMO Survey, accessed Feb.27, 2013.