Shopping Activities of U.S. Smartphone Users
Mobile

February 2013 -- Nielsen has released its latest report, entitled The Mobile Consumer: A Global Snapshot, providing a global snapshot of mobile consumer activities, device penetration, advertising and more.

Among the findings, and as reported by Marketing Charts, are details regarding American smartphone users. Select findings:

Among developed markets, smartphone ownership is lowest in the U.S., based on data collected during the first two quarters of 2012, but has steadily increased over the last few years, reaching 61% by December 2012.
For all ten countries surveyed, top smartphone shopping activities include browsing products, price comparison, and reading product reviews.
Compared to other countries, Americans are the most likely to use their device for in-store price comparison, online coupons, and purchasing products.
The U.S. was ahead of most of the other countries in terms of QR code scanning, behind only South Korea (38%) and China (30%).
One in four (24%) American smartphone users surveyed reported scanning a QR code or a barcode in the previous 30 days. By comparison, NFC/mobile wallet use trailed at 3%.
Other commercial activities that U.S. smartphone users engaged in: mobile banking (38%) and location-based services/GPS (48%), using retail shopping apps (53%).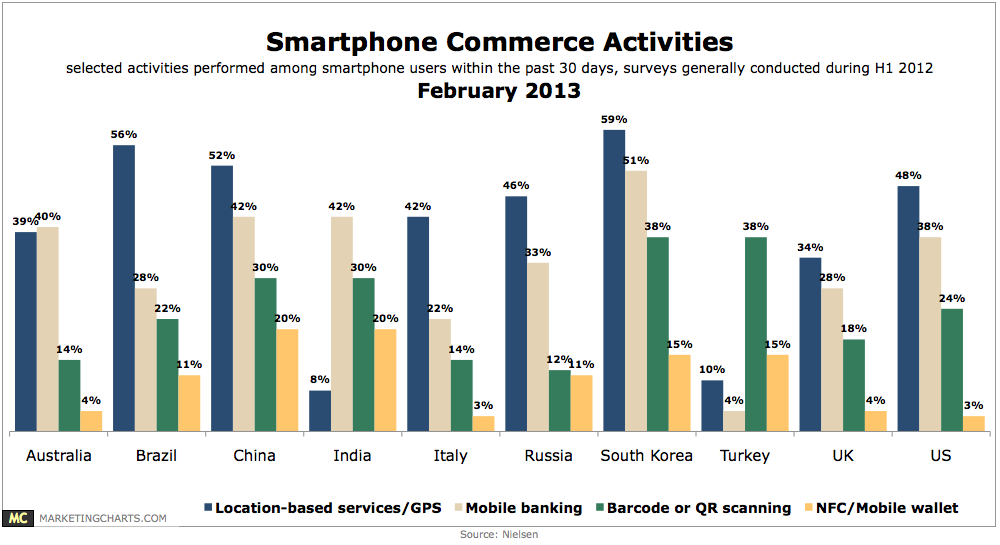 Graphic Source: Marketing Charts
Half of all U.S. smartphone owners say they are "okay with advertising if it means that I can access content for free."
Only 20% of American respondents say they are "more likely to click on ads that are simple text ads."


About: The data is derived from Nielsen Global Smartphone Insights (H1 2012) and Nielsen Mobile Insights, 2012, which reports specifically on U.S. mobile users. The incidence module interviewed a total of 84,565 random U.S. contacts (aged 13+). Detailed interviews were completed with 76,204 mobile users, 54,585 of which were able to identify their mobile phone. 28,103 respondents were smartphone users and 26,482 were non-smartphone users. Interviews were conducted during April-June 2012.

Sources: Nielsen, Mobile Consumer Report February 2013, and Marketing Charts, QR Code Scanning Not Yet A Mainstream Activity For US Smartphone Users, March 1, 2013.