Local Media Ad Revenues: 2.3% CAGR Over Next 5 Years
Ad Projections

March 18, 2013 – Local media industry adviser BIA/Kelsey, forecasts local media advertising revenues to climb from $132.5 billion in 2012 to $148.8 billion in 2017, representing a compound annual growth rate (CAGR) of 2.3%.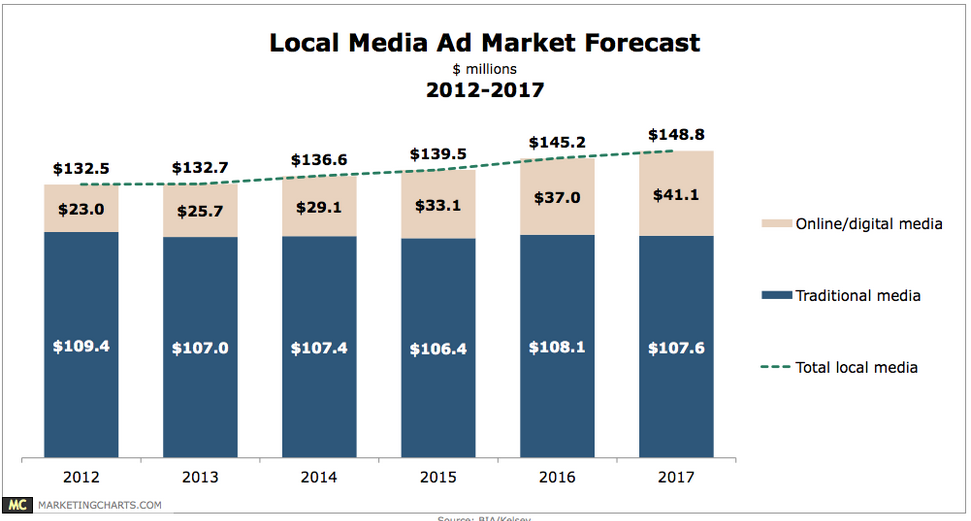 Chart graphic: Marketing Charts, Data source: BIA/Kelsey

The firm reports:

Traditional local media revenues (radio, TV, newspapers, and Yellow pages) are expected to decrease from $109.4 billion in 2012 to $107.6 billion in 2017 (CAGR: -0.3%).Traditional media revenues experienced a bump in 2012 from political advertising. The political ad spend cycle contributes to a drop in revenues in odd-numbered years. Despite the Y-O-Y political advertising effect, traditional media revenues remained steady throughout the forecast period.
Online media continues to increase its share of total local media revenues, growing from 17.4% in 2012 to 27.6% in 2017.
National brands accounted for 32.1% or $42.5 billion of the $132.5 billion spent on local media advertising in 2012. National's share of local ad spending is expected to grow to nearly $51 billion by 2017.
BIA/Kelsey has expanded its mobile revenue projection, thanks to growing smartphone penetration and access to mobile internet. The firm is prediciting a 49.3% annual growth in local mobile ad spending through 2017. While remaining a fraction of the total local media spend, mobile's share would grow from 0.9% (2012) to 6.1% in 2017.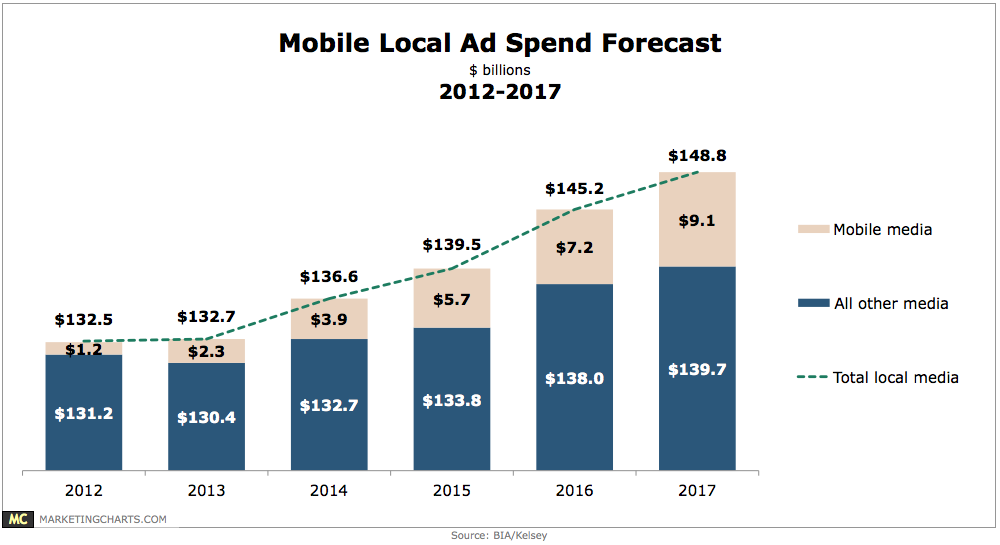 Chart graphic: Marketing Charts, Data source: BIA/Kelsey
About:
BIA/Kelsey defines the local media advertising marketplace as those media that provide local audiences to all types of advertisers. BIA/Kelsey's Annual U.S. Local Media Forecast (2012-2017) draws from proprietary data; company, industry and country information in the public domain; and discussions with clients and non-clients about the direction and pace of development in the local media marketplace.
Sources:
BIA/Kelsey,
U.S. Local Media Ad Revenues to Grow from $132.5B in 2012 to $148.8B in 2017, According to BIA/Kelsey,
March 18, 2013, Marketing Charts,
Traditional Media to Lose Ground to Online in Local Advertising
, March 18, 2013 and Marketing Charts,
Mobile Local Ad Spend Set to Grow at a Rapid 49.3% Annual Clip
, April 4, 2013.