Consumers Trust Advertising In Print More Than Other Media
Consumer Attitudes

March 11, 2013 – Despite changes in media consumption in recent years, research finds European consumers continue to have most trust in advertising in printed media.

When asked how much trust they attach to advertising in the various media, consumers gave magazines and newspapers a score of 63%, TV 41% and Internet 25%.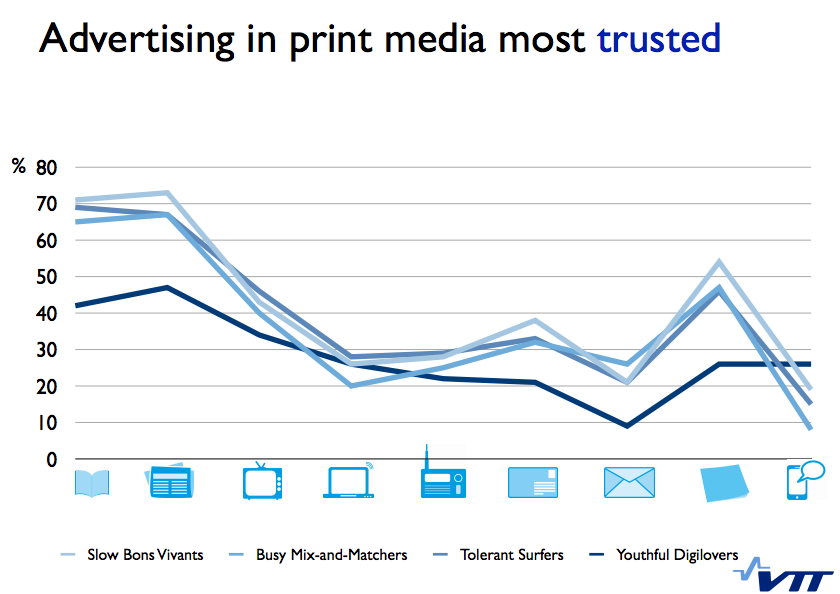 Source: Print Power 2013

Consumers were also asked about the role of advertising in purchase decision making - almost seven out of ten said that advertising in magazines and newspapers was most important in supporting purchase decisions.

When asked to compare direct mail with social media nearly 90% of respondents valued addressed and non-addressed mail above social media.

The purpose of the research was to gain insight into the role of printed media in consumers' everyday lives as well as gauge consumer attitudes towards advertising in different channels.

The study was conducted by Finnish applied research institute VTT between April and August 2012 in 13 European countries. More than 700 consumers took part. The proportion of well-educated people was high, an interesting factor as these are the people who have the best possibilities to use a wide variety of media.

The research, commissioned by Print Power Europe, covered nine media types (magazine, newspaper, TV, radio, internet, addressed direct mail, unaddressed direct mail, catalogs and social media).

Respondents were presented with a series of different media use situations and were asked to comment on how well these stories described their own media use. When examining direct mail via social media, direct mail won out with all except with the 12% "pure digital lovers," who do not see the benefit of using print media.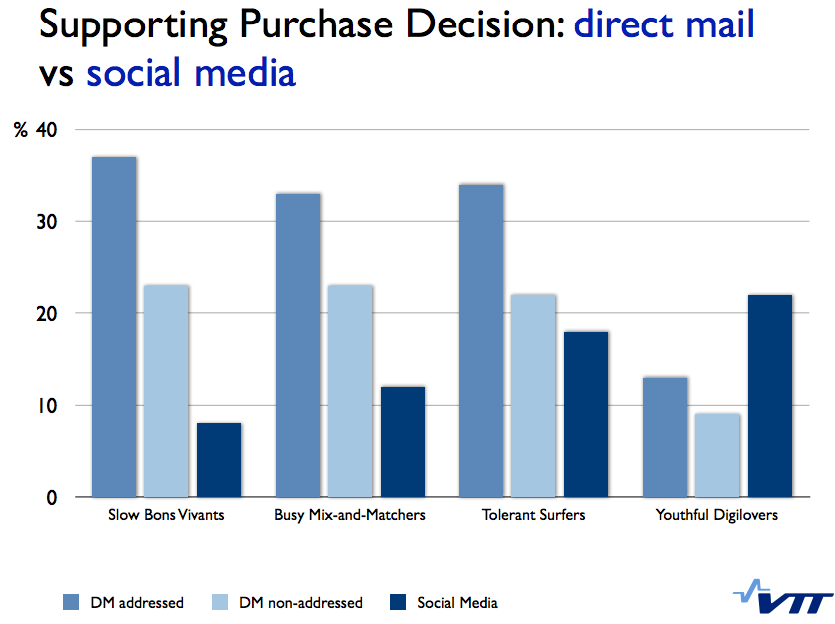 Source: Print Power 2013

Consumer segments:

The Slow Bons Vivants (23% of the respondents) are print users who associate digital media with their hectic working life.

Busy Mix-and-Matchers (46%) easily shift between digital and print media and appreciate print media.

Tolerant Surfers (19%) are digital media users with a positive attitude towards print media.

Youthful Digilovers (12%), are pure digital users who do not see the benefit of using print media.


About: Research conducted by VTT and commissioned by Print Power Europe. Fieldwork (web questionnaire) April - August 2012. Countries: 13; Sample size : 747 (57% men: 43% women: Age <35: 20%, Age 35-44: 30%, Age 45-54: 26% Age >55: 23%; Urban residence 74%
Source: Print Power, Consumers trust advertising in print media more than other media, March 4, 2013.