Consumers Not Trusting Of Social Media Ads
Social Media

March 21, 2013 -- A Forrester Research survey of over 62,000 online Americans and 20,000 online Europeans finds consumers on both sides of the pond place the least amount of trust in social media marketing, mobile messaging, and internet ad content.

The survey finds that U.S. trust in social media ads (15%), text messages from companies or brands (9%), and ads received via mobile apps (12%) are ranked at the bottom, along with push-marketing banner ads (10%) and email promotions (18%).

Not surprisingly, the most trusted promotions are recommendations from friends and family (70%), followed by professionally written online reviews (55%).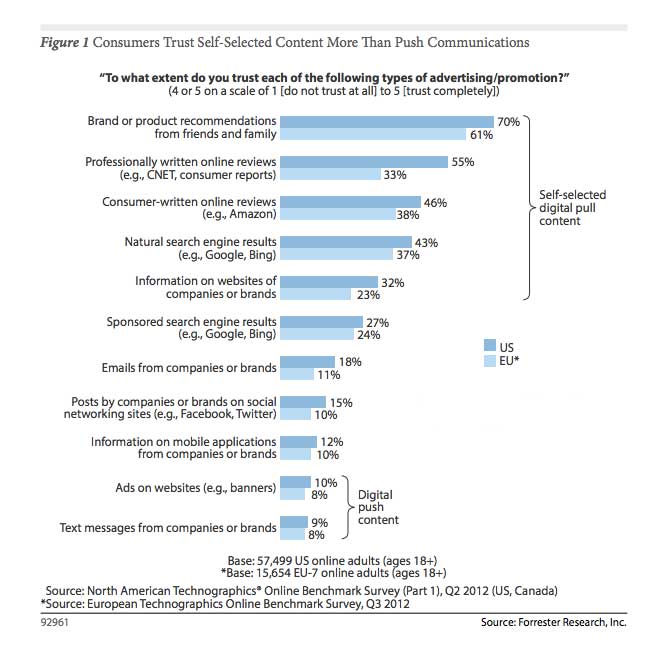 The survey also shows U.S. consumers place a relative amount of trust in search engine results (43%), from the likes of Google, Bing, and Yahoo, as well as consumer written reviews (e.g.-- Amazon's and Yelp user reviews), which 46% of online Americans said they trust.

The survey finds Europeans to be more cautious about all types of advertising content compared to the more trusting their U.S. and Canadian counterparts.

"Brand-led advertising online and offline has lost its allure," report author Tracy Stokes states in the report. "Today's consumers decide where, when, and how they want to engage with brands. With multiple interconnected devices at their fingertips at any one time, these perpetually connected consumers can opt in or out of content as they choose… Marketers face a higher bar to engage consumers, who have more media options than ever before."


About: The North American portion of the survey polled 58,068 US and 5,635 Canadian online adults ages 18 to 88 in Q2 2012, while the European poll was conducted in Q3 2012, polling 20,778 European individuals in France, Germany, Italy, the Netherlands, Poland, Spain, Sweden, and the UK. The European survey was based on an online population of ages 12+ (16+ in Poland) who were members of the Ipsos-MORI online panel.

Source: TechCrunch, Consumers Still Pretty Suspicious About Social Media Marketing, Forrester Survey Finds, March 21, 2013.