Late Night and Weekend Emails Generate Most Revenue
Email
April 2013 -- Emails sent to consumers late at night get the best results, finds email marketing vendor Experian via analysis of its North American clients Q4 2012 email campaigns.

THE BEST TIME OF DAY FOR MARKETING EMAILS: 8PM TO MIDNIGHT

The best time and day to mail varies by industry, however, across all brands and industries the time/day testing found:

Sending emails between 8pm and midnight proved to have the highest open rates (21.7%), unique clicks (4.2%) and transaction rates (0.34%).
Emails sent between 8pm and midnight result in the highest revenue per email with an average return of 48 cents per email -- this ROI was almost triple the overall average of 14 cents per email.
The second best-performing time slot for marketing emails was 12am to 4am; those emails generated 22 cents per email on average.
The average order resulting from a promotional email sent between the hours of 8pm and midnight was $246. The second highest average order amount was $188 for those orders placed between noon and 4pm.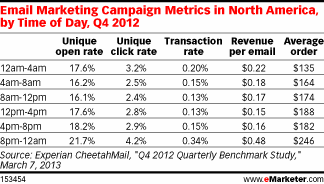 Graphic Source: eMarketer
The least profitable time to send emails was afternoons between 12pm and 4pm; senders averaged a return of 15 cents per email during this time.

THE BEST DAYS TO SEND MARKETING EMAIL: WEEKENDS
Emails sent on Saturdays and Sundays had the highest open rates, unique clicks, transaction rates and revenue per email.
Saturday had the the highest return on investment (ROI)—20 cents per email, followed by Sundays at 19 cents per email.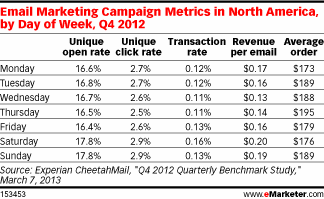 Graphic Source: eMarketer

Weekends also saw the lowest volume deployed compared to other days of the week; Saturday deployment was 9% and Sundays, 10%. Weekday deployment ranges between 15-17%.
Monday had the highest revenue per email at 17 cents; Wednesday emails had the lowest at 13 cents per email.
Friday had the highest transaction rate.


About: Experian's Q4 2012 Benchmarking Report does not provide the volume of email analyzed; their site does not indicate volume handled either. With this said, Experian is the industry's largest integrated email service provider with locations in 14 countries and has been the category leader in Internet Retailer's Top 500 Guide for more than five consecutive years, serving more of the world's leading online retailer than any other email service provider. Experian's CheetahMail is noted as the partner to two-and-a-half times more of America's leading online enterprises than any other partner in its category. Clients include BJ's Wholesale Club, Carnival Cruise Lines, Chicos, Neiman Marcus, Las Vegas Sands, Urban Outfitters and more.

Sources: eMarketer, Want Better Email Revenue? Send Late at Night, April 1, 2013 and Experian, CheetahMail 2012 Q4 Benchmark Study, accessed April 4, 2013.