Big Data: "Part Obstacle, Part Opportunity"
Big Data

April 2013 -- According to a study of marketers and IT professionals conducted by the CMO Council, in partnership with SAS, "big data is a key competitive differentiator and will be core to implementing a more customer-centric business culture."

BIG DATA CRITICAL TO CUSTOMER-CENTRIC CULTURE

Big data has emerged as the critical factor to achieving an enterprise-wide customer-centric culture, according to 40% of marketers and 51% of IT respondents.

BIG DATA OBSTACLES

With this said, big data is viewed by the majority of respondents (60%) as "part obstacle and part opportunity." Half of all marketers cite "functional silos block aggregation of data from across the organization, making it difficult to truly achieve customer centricity." Other roadblocks noted: insufficient training (35%) and lack of budget (35%).

BIG DATA WISH LIST

When marketers were asked about the types of data that would be beneficial to add to their customer data profiles, 71%, were interested in adding "predictive analytics around the lifetime value of customers, " that is, data that would help organizations narrow in on their best customers.

The second most desired data set is beefed up customer profiles (53%) followed by integrating customer service feedback into the customer data profile (45%) and mining social media data (42%).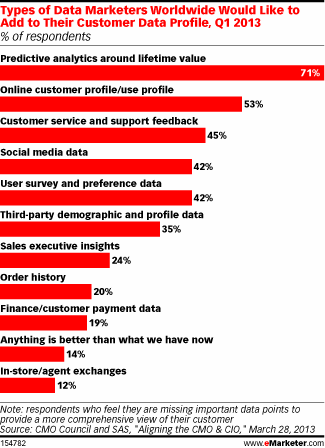 Graphic credit: eMarketer, 2013
BIG DATA'S IMPACT

When asked about the impact of data on business operations to date, 52% of marketing respondents pointed to data identifying new business opportunities and 46% noted an increased robustness to customer profiles and intelligence.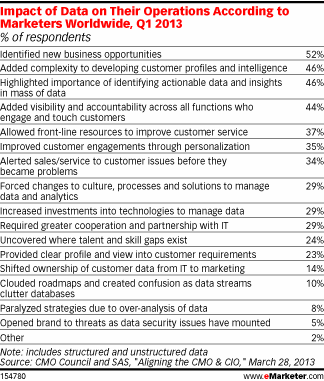 Graphic credit: eMarketer, 2013

About: Based on an online survey of 237 senior marketers and 211 senior IT professionals conducted across Q4 of 2012 and Q1 of 2013.

Sources: CMO Council, BIG DATA'S BIGGEST ROLE ALIGNING THE CMO & CIO, March 2013 (registration required to access executive summary) and eMarketer, What Do Marketers Want From Big Data?, April 10, 2013.