7 in 10 Adults Access Content from Newspaper Media Each Week
Newspapers
March 25, 2013 -- According to the NAA's SenseMaker Report, a majority of U.S. adults, 164 million (69%), read newspaper media content in print or online in a typical week, or access it on mobile devices in a typical month.

Additional findings from the report commissioned by the Newspaper Association of America, and conducted by Scarborough Research, which surveyed 206,000 U.S. adults and assessed the latest data on news media consumption across platforms:

MILLENNIALS READ NEWSPAPER MEDIA CONTENT

Six out of 10 (59%) young adults, ages 18-24, read newspaper media content in print, online or via mobile in a typical week, or access it on mobile devices in a typical month.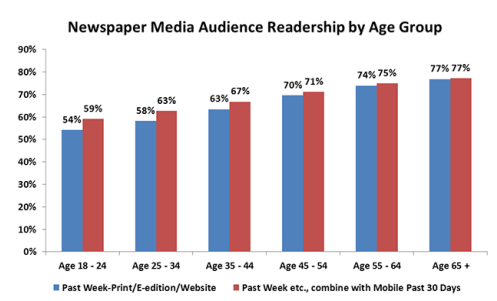 Source: Scarborough Research/NAA, May 2013
ACCESS TO NEWSPAPER CONTENT VIA MOBILE IS ON THE RISE

One in 5 U.S. adults (34 million) accessed content from newspaper sources on tablets and smartphones in a typical month, an increase in mobile audience of 58% from the same period a year earlier.
Almost half (47%) of the newspaper "mobile only" audience is age 18-34.

Age Composition of Mobile-Exclusive Newspaper Audience

Age Group

% of Audience

18-24

19%

25-34

28%

35-44

24%

45-54

17%

55-64

10%

65+

4%

Source: Scarborough Research/NAA, May 2013
When it comes to device ownership, mobile newspaper users look like the mobile population. More than a third of smartphone newspaper users own iPhones and Android phone technology is the most popular of the non-Apple platforms.
Among those who read newspaper content on tablets, the Apple iPad is the most popular platform by far.
Composition of Newspaper Mobile Users by Device Type

Mobile Users

iPad

Other Tablet

iPhone

Other Smartphone

Other Mobile

All Newspaper Mobile Users

25%

5%

36%

45%

13%

Newspaper Mobile Exclusive Users

19%

5%

34%

47%

12%

Non-exclusive Newspaper Mobile Users

26%

5%

36%

44%

13%

Source: Scarborough Research/NAA, May 2013


NEWSPAPER CONTENT READERSHIP BY AGE GROUP
The median age of print newspaper readers is 54.
The median age of the online newspaper media audience is 43 years old.
The median age of those who have used a mobile device to access newspaper content in a typical month is 37.
Those who have accessed newspapers only on mobile devices are a median age of 33.
TOTAL NEWSPAPER MEDIA AUDIENCE DIPPED 1% IN 2012
Overall, the total newspaper media audience in a typical week (excluding mobile) dipped 2% in 2012 from 2011, a change in line with television media and less than radio. When the mobile audience is included, the decline in total newspaper audience is cut by less than 1%.
Note: These data points do not reflect the spike in sales for mobile devices in the past six months. It is likely that when new Scarborough data become available later in the year, the mobile component of the newspaper media audience will show continued growth.
About:
Scarborough sampled 206,000 U.S. adults for this NAA sponsored study. Data is weighted and projected to adults age 18+ in each local market. Balancing variables include geography, age within gender, household size, education, race, Hispanic ethnicity (where applicable), Spanish language dominant (where applicable), and cable penetration.
More on their methodology
.
Source:
Newspaper Association of America (NAA),
Across Platforms, 7 in 10 Adults Access Content from Newspaper Media Each Week
, March 25, 2013 and
SenseMaker Report,
March 2013 (accessed May 23, 2013).