Brands Use of Traditional Ads to Promote Their Social Presence; Are Consumers Noticing?
Social Media
In March 2013 -- Burst Media surveyed 2,577 U.S. online adults to understand how and why respondents use social media to interact with a brand—and "gauge the effectiveness of socially empowered brand messaging across digital, broadcast, print and outdoor advertising media."
RECALLING BRANDS SOCIAL MEDIA PROMOTIONS
The marketing and promotion of brand-related social media presences — including Facebook pages, Twitter hashtags and Pinterest boards — have been increasingly appearing in traditional advertising messages.
Recalling ads they are exposed to, the percentage of survey respondents noticing when brands promote their own social media account:
More than one-quarter (27.2%) notice brand-related social media assets in online banner ads.
About one-quarter (24.1%) say they have seen such promotion in TV ads.
One-fifth (21.2%) of respondents notice brands promoting their social presence in magazines and newspapers.
Radio ads (11.4%) and outdoor media (9.5%) including bus stop ads, billboards, etc. were recalled by one in 10 respondents.
MEDIA EFFECTIVENESS IN ENCOURAGING BRAND INTERACTION ON SOCIAL MEDIA
Six in 10 respondents who recall brands promoting their social media presence in digital ads—whether viewed on a PC, laptop, tablet, or smartphone—say these ads are either very or somewhat effective in encouraging their interactions with these brands on social media.
The effectiveness (either somewhat or very) of other media at prompting social interaction with brands:
Radio ads - 41.5%
Outdoor ads - 39.4%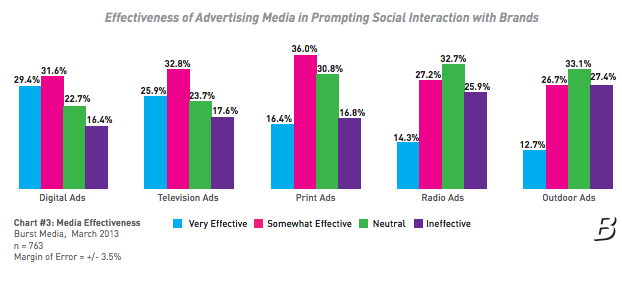 Source: Burst Media, 2013
WHICH CONSUMERS ARE SOCIALLY ENGAGED WITH BRANDS
?
More than one-half (54.2%) of women and 48.6% of men have engaged in a brand-related social sharing activity based on something seen on or in an ad, including liking a brand's Facebook page, using a brand's Twitter hashtag and/or posting a brand-related picture to Instagram.
Women aged 35-44 in particular are active in this regard with 65.3%) saying they have engaged in a brand-related social sharing activity.
Nearly three-fifths (56.9%) of all respondents aged 18-34 are actively brand-engaged, including 59.8% men aged 18-24 years.
TOP REASONS CONSUMERS SOCIALLY INTERACT WITH BRANDS
"To show my support for a brand that I like." - 53.8% of women versus 44.1% of men cite this as a reason.
"To access to offers, coupons, and promotions." - 53.2% of women versus 35.5% of men.
"To stay current with the brand's latest offerings." - 39.0% of women versus 33.3% of men.
Source:
BurstMedia,
Online Insights: Expanding the Conversation
report, accessed June 10, 2013.