Customers Acquired via Facebook and Twitter Prove Less Lucrative
Digital/Online

June 25, 2013 -- With U.S. e-commerce sales now topping $200 billion annually, the last few years have changed the world of online marketing and customer acquisition trends reflect this evolution.

With this in mind, Custora, a provider of predictive customer lifetime value (CLV) analytics for online retailers, set out to study the changing landscape of customer acquisition, by analyzing data spanning 72 million customers from 86 U.S. retailers across 14 industries. They determined, "as it turns out -- not all customers are created equal."

Findings:

CUSTOMER ACQUISITION CHANNEL GROWTH

Organic search (listings on search engine results pages that appear because of their relevance to the search terms) still leads as the largest channel for online customer acquisition, accounting for nearly 16% of customers acquired.
Customer acquisition via email has quadrupled over the last 4 years (from 0.88% to nearly 7%), thanks to "an increasing number of retailers building communities and collecting email addresses, then converting those "members" into customers."
Consumers' engagement and use of social media engagement has not translated into customers acquired; the percentage of customers acquired via Facebook is 0.17% while Twitter is a flat 0.01%.
Online Customer Acquisition Growth by Channel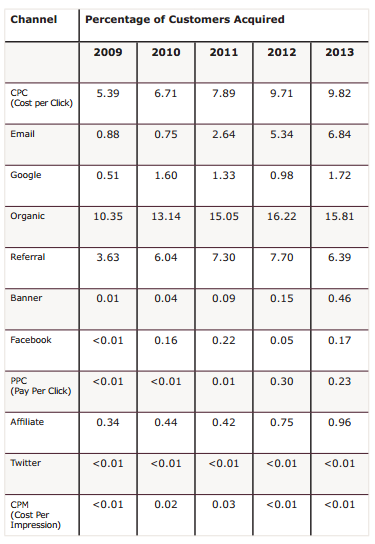 Source: Custora, June 2013

CUSTOMER LIFETIME VALUE

Customer Lifetime Value (CLV) is defined as "the future profit a company expects to earn from a customer throughout his or her relationship with the business."
The highest-value customers are obtained through organic searches -- 54% higher than average.
Customer acquired via Cost per Click (CPC) and email are valued at 37% and 12% above average, respectively.
Customers acquired through Twitter are worth about 23% less than average. The study states, "this may be attributed to the frequency of discounts offered within tweets."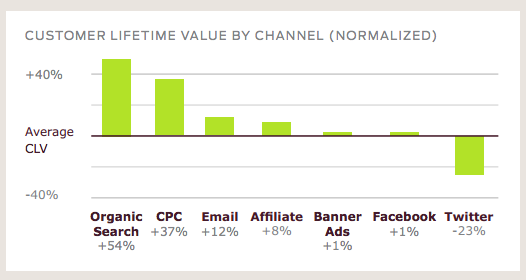 Source: Custora, June 2013
About: Findings were derived from data spanning 72 million customers from 86 U.S. retailers across 14 industries. Acquisition channels were obtained via the "utm_medium" tag in Google Analytics. Customer Lifetime Value (CLV) numbers refer to the amount customers spent in the two years after their initial purchase (initial purchase inclusive). When customers made their first purchase less than two years prior to data collection, their expected purchases for the remaining time were calculated using Custora's statistical models and used in the overall calculations

Source: Custora, E-Commerce Customer Acquisition Snapshot, June 25, 2013.