56% of All American Adults Now Smartphone Adopters
Mobile

June 2013 -- According to the Pew Research Center's Internet & American Life Project, a majority of Americans now own a smartphone of some kind.

SMARTPHONE OWNERSHIP

Pew's definition of a smartphone owner includes anyone who says "yes" to one—or both—of the following questions:

55% of cell phone owners say that their phone is a smartphone.


58% of cell phone owners say that their phone operates on a smartphone platform common to the U.S. market. This includes anyone who identified their phone as an iPhone, Android phone, Blackberry, or Windows phone.
Taken together, 61% of cell owners said yes to at least one of these questions and are classified as smartphone owners.
Because 91% of the adult population now owns some kind of cell phone, that means that 56% of all American adults are now smartphone adopters. One third (35%) have a cell phone that is not a smartphone, and the remaining 9% of Americans do not own a cell phone at all.

SMARTPHONE DEMOGRAPHICS

As has consistently been the case since Pew began measuring smartphone adoption in 2011, ownership is particularly high among younger adults, especially those in their twenties and thirties -- although a majority of Americans in their mid-forties through mid-fifties now own smartphone adopters.
Smartphone ownership is also relatively high levels of household income and education.
The latest survey finds every major demographic group experienced significant year-to-year growth in smartphone ownership between 2012 and 2013, although seniors—defined as those 65 and older—continue to have relatively low adoption levels compared with other demographic groups. Some 18% of Americans age 65 and older now own a smartphone, compared with 13% in February 2012.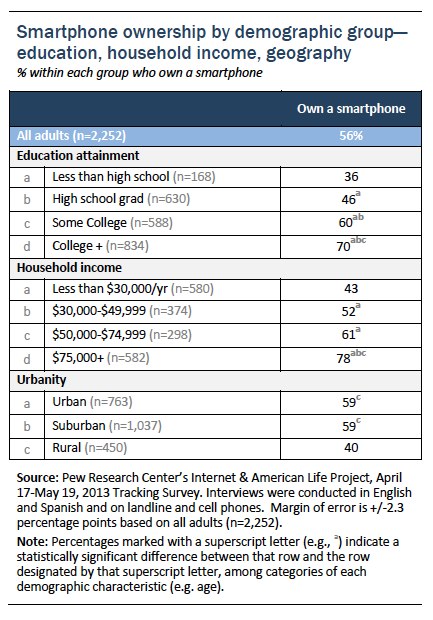 SMARTPHONE PLATFORMS

Android owners now make up 28% of all cell owners; iPhone is close behind with 25%.
The share of cell owners that have a BlackBerry has fallen from 10% in May 2011 to 4% in the latest survey.
Among the more affluent, he iPhone is the device of choice. Nearly half (49%) of those with household income of $150,000 or more have the IPhone.
By ethnic group, African-American mobile users are more likely than whites or Latinos to have an Android device than an iPhone (42% versus 26% and 27%, respectively).


About: The results in this report are based on data from telephone interviews conducted by Princeton Survey Research Associates International from April 17 to May 19, 2013, among a sample of 2,252 adults, age 18 and older. Telephone interviews were conducted in English and Spanish by landline (1,125) and cell phone (1,127, including 571 without a landline phone). For results based on the total sample, one can say with 95% confidence that the error attributable to sampling is plus or minus 2.3 percentage points. For results based on Internet users (n=1,895), the margin of sampling error is plus or minus 2.5 percentage points. In addition to sampling error, question wording and practical difficulties in conducting telephone surveys may introduce some error or bias into the findings of opinion polls.

Source: Pew Research Center's Internet & American Life Project, Smartphone Ownership 2013, June 5, 2013.