Digital's Share of Total Print Market Will Be 20.6% By 2018
Print Industry Numbers

June 2013 -- By 2018, digital printing will equal 50% of the global offset sector, and be higher in the more mature print regions, according to a new study from Smithers Pira titled, The Future of Offset vs Digital Printing to 2018.

In 2008, digital accounted for a little under 18.5% of the offset market in value terms. Continuing falls in run length is the key reason for the adoption of digital technology by many offset companies, together with the recent improvements in digital print technology.

Key findings:

Digital's share of the total print market will grow from 9.8% in 2008 to 20.6% in 2018, led by inkjet technology where improvements in productivity and reliability are making digital printing more cost effective over higher runs.
By 2018, the digital printing market will grow from $131.5 billion in 2013 to $187.7 billion -- a compound annual growth rate of 7.4%.
The global volume of all offset prints will fall by 10.2% between 2008 and 2018, while digital print volume is forecast to grow by 68.1%.
Proportion of Offset and Digital in All Print Markets, 2008-18
(by value and volume)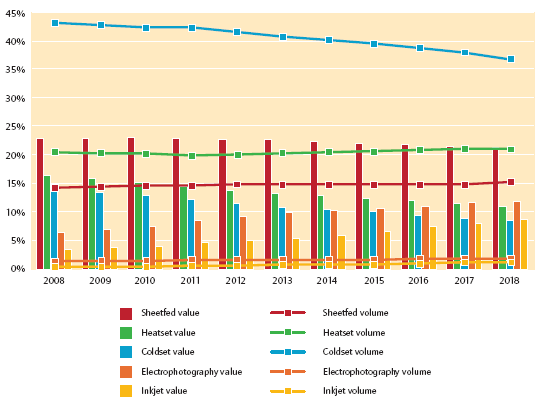 Source: Smithers Pira, 2013

As stated by Smithers Pira, digital printing is better suited to the changing demands of print buyers - and importantly, to end consumers of print - than offset is. Primary research conducted for this report highlights the continuing demands of buyers for lower run lengths and faster turnaround, and the use of versioning and personalization is continuing.
According to the research, the average selling price of all offset print will fall from $11.43 per 1,000 x A4 prints in 2008 to $10.16 in 2018, a decline of 11.1%.


Digital print has a low set-up cost but unit cost per copy is higher; the average price will increase, from $92.48 per 1,000 prints in 2008 to $119.53 in 2018, an increase of 29.25%.
About: The market data presented is from primary research sources and discussions with leading players across the supply chain. Additional sources of research included economic forecasts, demographic and population changes, government statistics, UN data on imports and exports, etc. The study includes paper and ink production and sales data and real world sales data from many of the leading public companies and supplier organizations in the sector. Smithers Pira uses feedback from high-level contacts based across the world, following the Delphi technique, to provide sense checks and further refine the accuracy of data.

Source: Smithers Pira, Digital print market to reach $187.7 billion by 2018, June 12, 2013.