Marketers: Real-Time Personalization An Essential Tactic
Personalization/Targeted Ads
July 2013 -- More than three-quarters (77%) of marketers say real-time personalization is crucial to "to meet the needs of consumers with the right message, in the right place, and at the right time," according to a recent
marketing study
from marketing technology firm Neolane and the Direct Marketing Association. With this said, 60% note they struggle to personalize content in real-time.
In general, those surveyed agree that real-time marketing is defined as "dynamic, personalized content delivered across channels," yet their responses show they believe that real-time personalization is more important to some channels than others.
TOP 3 CHANNELS MOST IMPORTANT TO DYNAMICALLY PERSONALIZE
Email is the channel that rates highest for real-time personalization marketing, with 80% finding it very important; 97% find it moderate to highly important.
Three-quarters (75%) of marketers say cross-channel dynamic, personalized content is highly important, 95% find it moderate to highly important.
Seven in 10 (69%) of marketers find personalization of the web to be highly important, 95% find it moderate to highly important.
REAL-TIME PERSONALIZATION OF MOBILE AND SOCIAL LAGS AS A STRATEGY
Only half (53%) say dynamic, personalized content on mobile devices is highly important to their organization.
Even less (45%) of marketers find the need for real-time personalization via social channels to be of high importance.
ACTIONS FOLLOW ATTITUDES
More than half (55%) of respondents say they're currently personalizing their emails in real-time -- the highest figure of any channel.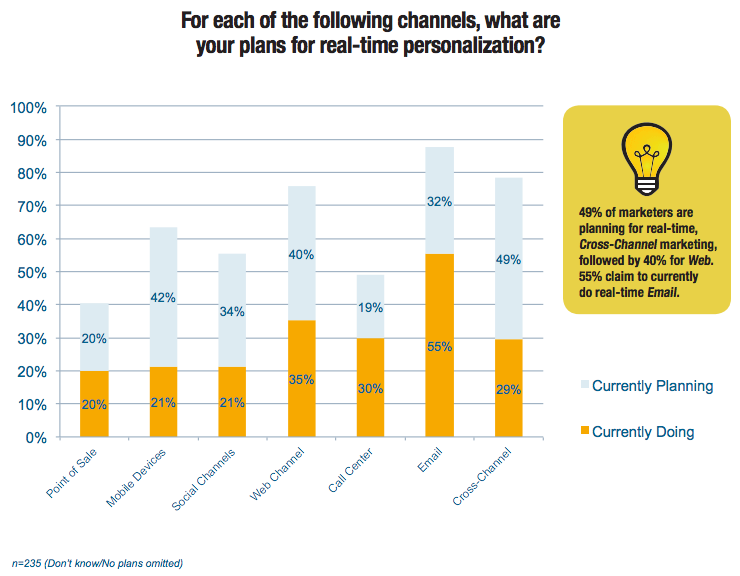 Source: Neolane/DNA, July 2013

TOP REAL-TIME MARKETING BENEFITS

Marketers say the top benefits real-time marketing solutions deliver are:

Marketing effectiveness (76%),

Customer satisfaction and experience (67%)

Retention (69%)

CONCERNS WITH ADOPTING DYNAMIC MARKETING

• Complexity of systems (50%)
• Access to real-time data (46%)
• Data privacy issues (45%)
• Training required (39%)
• Hiring appropriate staff (37%)
• Change management (35%)
• Data governance needed (25%)

DEPLOYING REAL-TIME MARKETING

More than four in 10 (44%) of respondents say their organizations have deployed the strategy, or soon will.
One in 3 (33%) say they are evaluating real-time marketing as a strategy to pursue.

About: The data is based on a survey of 235 North American marketers. A dozen industries are represented; the most highly-represented industries: Business Services (28%), B2B High Tech (16%) and Media-Entertainment (11%). 53% of respondents are from companies with less than $100 million in annual revenues, 30% represent companies with over $100 million in revenues, the remainder wouldn't say/didn't know.

Source: Neolane/DNA, Real-Time Marketing Insights Study, accessed July 24, 2013.